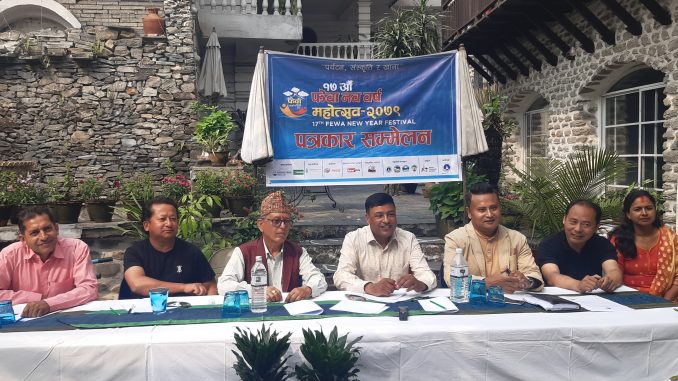 Pokhara— Hotel Association Pokhara Nepal (HAPN) is all set to commence the 17th Fewa New Year Festival in Pokhara. Entry with free of charge, the festival will be organized on the street between Fishtail Gate and Hallan Chowk of Lakeside on the 13 and 14 of April 2022.
HAPN has already announced a 30 percent discount on regular hotel tariffs. According to HAPN chairman and festival coordinator Laxman Subedi, a total of 0.1 million tourists including local people will visit the festival that expects the expenses of Rs 3.5 million. According to him, the hotel sector has 25 percent of occupancy these days and 50 percent of hotel beds have been booked for New Year.
The festival mainly focuses on tourism, culture, and food. It also aims to revive the hard-hit tourism by Covid- 19 pandemic. Fewa Lake conservation, promotion of domestic and international tourism and saving the Nepali cultures are key aims of this festival.
Programs of duet songs, pop concerts, and comedy shows will also be the parts of the festival that includes two event-stages in Ambot and Center Point of Lakeside. A cultural rally will be organized before kicking off the festival that is mainly sponsored by Annapurna Cable Car Pvt. Ltd and Tuborg beer. Nepal Tourism Board is to promote the festival. HAPN had organized a press meet to inform about this festival on Tuesday. HAPN's immediate past president Bikal Tulachan and general secretary Rajendra Dhakal also expressed their views during the program.