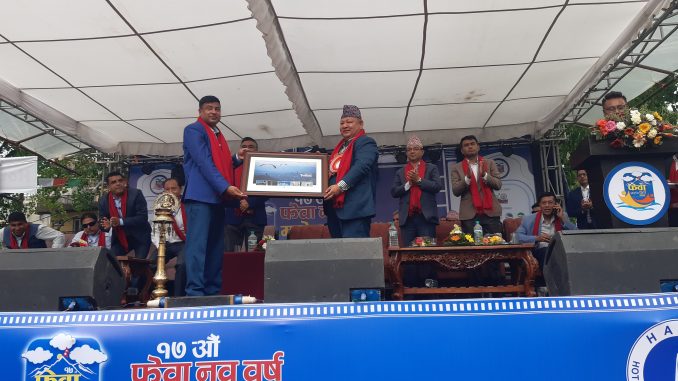 By Rup Narayan Dhakal : Pokhara—The 17th Fewa New Year Festival kicked off in Pokhara. Culture, Tourism, and Civil Aviation Minister Prem Bahadur Ale inaugurated the festival in Lakeside on Wednesday. The two-day-long festival is being organized between Hallan Chowk and Fishtail Gate on the street of Lakeside.
Tourism, Culture, and Food are the key focus of the festival mainly sponsored by Annapurna Cable Car (ACC) Pvt. Ltd. and Gurkha Brewery. The festival is being promoted by Nepal Tourism Board. Addressing the formal opening program, organizer Hotel Association Pokhara Nepal (HAPN) Chairman Laxman Subedi said that the festival aims the promotion of domestic and international tourism as well as the preservation of Nepali culture and the restoration of Covid- 19-hit tourism. Mr. Subedi who is also a coordinator of this festival informed that there are a total of 40,000 beds in 1200 hotels in Pokhara that has 15,000 employment only in the tourism sector.
Duet songs, pop concerts, and comedy shows are key attractions of the festival. Hotel Association Nepal vice-chairman Binayak Shah, executive member Bharat Raj Parajuli, Gandaki Province lawmakers duo Rajiv Pahari and Deepak Koirala, Pokhara Tourism Council Chairman Gopi Bahadur Bhattarai, ACC general manager Dinesh Paudel, FNJ Gandaki general secretary Govind Subedi, HAPN first vice-chairman Deepak Shrestha and Namuna Mother Group president Juna Adhikari also put their views during the program moderated by HAPN general secretary Rajendra Dhakal.
Addressing the program, Minister Ale said that the under-construction Pokhara Regional International Airport would be opened within five months of period. Informing that 93 percent of physical construction works of the airport have been completed, Minister Ale claimed that the Ritthepani Hill will be removed soon on the fast track. He also requested the Pokhara Metropolitan City office to shift the existing Landfill site to another location as soon as possible. Minister Ale also vowed that the Himagriha and Ratna Mandir of Lakeside will be opened to the public within the coming month of Baisakh. Minister Ale said that Pokhara will be declared the tourism capital of Nepal covering in upcoming policies and programs of the government.