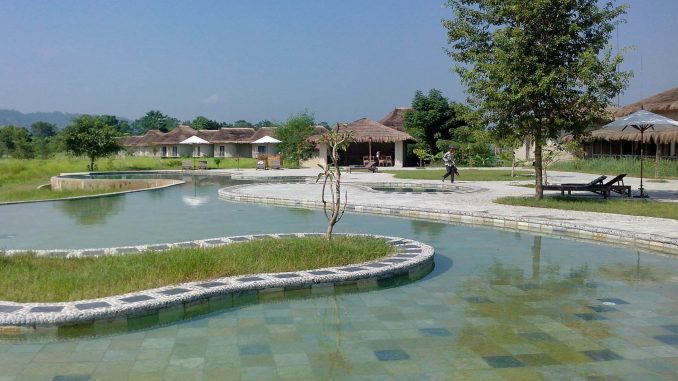 Pokhara—Barahi Jungle Lodge (BJL) Nepal has been honored as a Leading Wildlife Hotel/Resort, which is one of the best awards in South Asia, in Maldives recently. Earlier this year, the lodge had also won the same national level award as well as the Leading Eco Resort and Leading Luxury Resort.
BJL was awarded during a South Asian Travel Award ceremony organized at the Maldives capital Male. Barahi Group chairman Hari Prasad Paudel said that the getting such honor was the corner stone in the professional journey of the lodge. He also thanked his staffs, guests and business partners for their contribution to make BJL a quality lodge and to achieve such award.
BJL situates in the bank of Rapti River at Meghauli which is known as the settlement of Tharu community. Tharu culture and Chitwan National Park are some of the major attractions around BJL. There are a total of 34 rooms including a suit room in BJL that covers the areas of more than 12 Hectares.
According to Barahi Group Executive Director Biplab Paudel, this lodge also offers jungle safari, boat ride, jungle walk and elephant ride including spa and therapy services. The part of conservation of local culture, employment priority to the locals and the corporate social responsibility are the sides that BJL has been fulfilling since its operation. The lodge which was established on September of 2013 also had got an award of Best Eco Friendly resort from Travel Operators for Tigers in 2015. The lodge was also featured as one of the five responsible boutique hotels of Nepal, by US based news giant Cable News Network (CNN).
More than that, it has planted 5,500 indigenous plants, including seasonal fruits which guests are encouraged to pluck and eat. All 18 cottages in the resort's hectares of pristine forest have a view of the magnificent Rapti River and national park, as well as a private balcony and access to the biggest swimming pool in Chitwan.