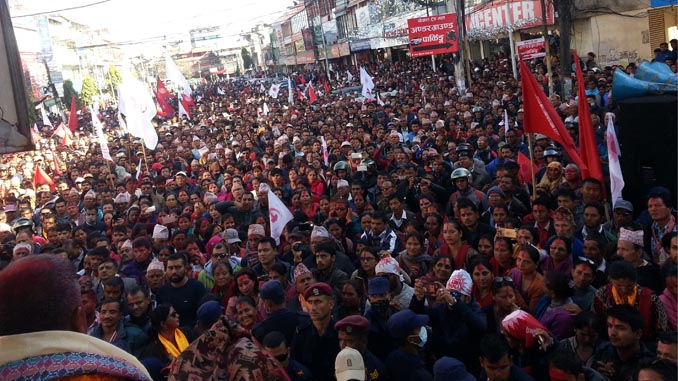 By Rup Narayan Dhakal: Pokhara—Left alliance has organized a victory rally today in Pokhara. Victorious candidates from CPN-UML and CPN-MC along with their thousands of cadres and leaders took part in the rally.
Some of the victorious candidates with full of garlands and khadas around their neck could be seen waving their hands to the crowd. Some marched in the streets when some were in shuttle. The rally started from Saheed Chowk and reached Chipledhunga before being a mass meeting.
Newly elected CPN-UML parliamentary members Rabindra Adhikari, Khagaraj Adhikari and elected parliamentary member from CPN-MC Jagat BK addressed the mass meeting. Likewise, provincial candidates who won the elections from both the parties from Kaski district also addressed the meeting.
When the left alliance organized a rally, there occurred traffic jam in major Pokhara roads. Public buses and transportation services was interrupted by the rally. Chipledhunga area also remained jammed. The left alliance won 8 seats of parliament and provincial assembly from Kaski. Nepali Congress won only one seat from this distract.
Left alliance has already won 79 seats out of 165 first past the post system seats while Nepali Congress won only 13 seats so far. There are a total of 275 seats including 110 proportional in Nepal's parliament.

Pictures: Rup Narayan Dhakal