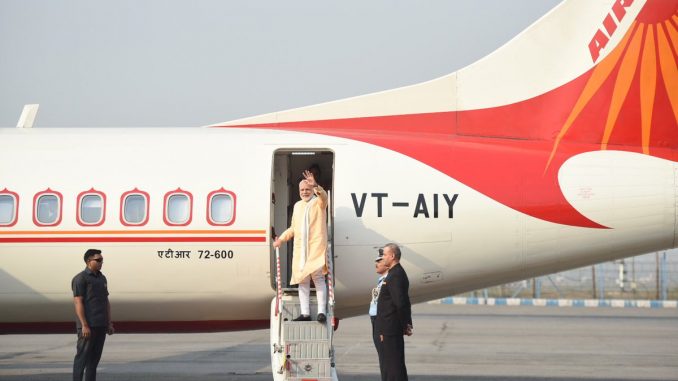 Pokhara—Indian Prime Minister Narendra Modi is busy in his state visit to Nepal today. Earlier, he was landed at Janakpur Airport to begin his two-day visit to Nepal.
Nepali Prime Minister KP Sharma Oli welcomed his counterpart PM Modi in Janaki Temple. Then, PM Modi offered pooja in this temple and both the PMs jointly inaugurated the Janakpur-Ayodhya bus service and Ramayan Circuit by hoisting green flag. The bus will be welcomed by Uttar Pradesh Chief Minister Aaditya Nath in Ayodhya on Saturday.
As per the information, there would be organized Ayodhya Festival in Janakpur and Janakpur Festival in Ayodhya every year. Speaking in Janaki Temple, PM Modi expressed his happiness that he is for the first time in the sacred land of Janaki Temple. He also thanked Nepali side for carrying out warm welcome to him.
PM Oli had reached Janakpur to welcome PM Oli that morning. He was in Kurta, Paijama and Dhaka topi. Modi took off from Patna in Air India aircraft and landed in Janakpur at 10.45 where he was welcomed by Nepali Defense Minister Ishwor Pokhrel. Modi is the first Indian PM to visit Janakpur. Now the the program of civic felicitation to PM Modi is undergoing in Ranga Bhumi Maidan.
After felicitation, PM Modi lefts for Nepal's capital city Kathmandu where he will visit PM Oli, President Bidhya Devi Bhandari, Vice President Nanda Kishor Pun and other political leaders. Tomorrow, he will visit to Muktinath Temple in Nepal's Mustang district and flys back to Kathmandu to leave for India.