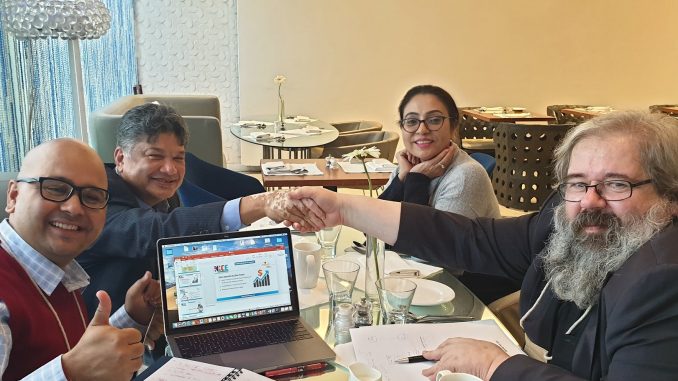 Kathmandu–PATA Nepal Chapter (PNC) and China Outbound Tourism Research Institute (COTRI) have signed a Memorandum of Understanding (MoU) to share knowledge through research and publications and to work together regarding tourism marketing and promotional initiatives and activities, as well as Human Capital Development and Training Programs.
The MOU was signed by PATA Nepal Chapter Chairman, Mr. Sunil Sakya and COTRI CEO, Prof. Dr. Wolfgang Georg Arlt during the second edition of the PATA India Tourism PowerHouse held on December 6, 2019, at the Park Hotel in New Delhi, India.
The MoU signing was accompanied by PATA Nepal General Secretary – Mr. Bibhuti Chand Thakur, PATA Nepal CEO-Mr. Suresh Singh Budal, the Visit Nepal Year 2020 Secretariat Manager-Mr. Rohini Prasad Khanal, and Head of Sales- Mr. Naveen Kumar from COTRI.
COTRI is the world's leading independent research institute for consulting, research, information, training, and quality assessment relating to the Chinese outbound tourism market. PATA Nepal General Secretary, Mr. Bibhuti Chand Thakur said, "This MoU with COTRI for ongoing collaboration and partnership is our important initiative to lure the untapped potential of the biggest outbound source market, China for Nepal". 
Both organizations agree to kick off their partnership and collaboration with the NICE (Nepal India China Expo (NICE) which is the first tri-nation tourism expo to be held from February 22-25 in Kathmandu, Nepal.