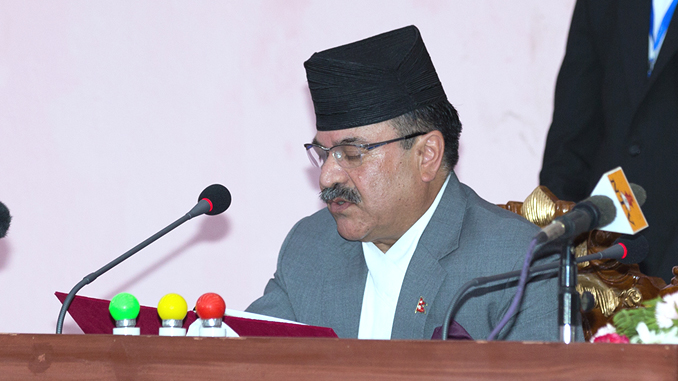 By Rup Narayan Dhakal : Pokhara—Province 4 government has unveiled its policies and programs for upcoming fiscal 2018/019, aiming the 8 percent economic growth and USD 2500 per capita income, here in Pokhara on Friday.
Province governor Baburam Kunwar has presented the 162-point policies and programs in provincial assembly meeting. The policies and programs have been confined in 33 pages and focused on the central government slogan–Prosperous Nepal, Happy Nepali. It has also been cleared that the upcoming fiscal would be the year of provincial policy formulation and infrastructures development.
Poverty reduction from 14.2 percent to 7 percent, doubling the agro production, construction of national pride projects- Korala- Pokhara and Pokhara-Dumkibas fast tracks, construction of international airport, international conference hall and stadium are some of the key programs that have been included in policies and programs.
Similarly, development of heart, kidney and cancer center, Pokhara ring road construction, monorail from Phewa- Begnas to Rupa Lake, development of IT Park, development of road and broadband internet networks from headquarter to local level centers, tripling the energy production, safe drinking water and electricity to every households, generation of 50,000 annual employments and self employment opportunities to 0.1 million people are also the parts of the policies and programs.
The policies and programs also aim to forge a master plan for unified development of tourism sector, development of golden triangle connecting Pokhara- Kathmandu and Lumbini, exploration, promotion and development of new tourism destinations and establishment of tourism service information center.
Likewise, celebration of 2019- as domestic tourism year, 2020- neighboring countries' tourism year and 2022- international tourism year also have been included in policies and programs. Agriculture development, cooperatives' development and public private partnership programs including hello Chief Minister program are also confined in the list.