Pokhara—Newly arrived District Police Office Kaski Chief SP Om Bahadur Rana promised that he would leave no stone untruned to control hooliganism in that district. Speaking in a press meet organized by DPO today SP Rana also made public his 12-point working plans.
He asked all the journalists and citizens to inform in 100 if they find any holiganism and missdeeds by the thugs. He further added that he would fight against narcotics, black market, homemade liquor and any crime.
People friendly policing, traffic management and awareness program, domestic violence, gender violence, gambling are also the parts of his plans. According to him, DPO would carry out result oriented investigation and information collection system. At the same time, DPO Kaski also marched Deepak Ghale, 19 form Pokhara Lekhnath- 6 and originally from Gorkha for allegedly stealing some sets of laptops, mobile phones and their accessories.
DPO Kaski also took control 36 taxis that refused to ply in meter system. Similarly, Juna Nepali, 40 of Pokhara Lekhnath- 4 Ghalechok and Subash Rana, 30, of Pokhara Lekhnath- 15 have been arrested for allegedly possessing brown sugar. Likewise, Binda Tamang, 31 from Udaypur district and has been living in Pokhara Lekhnath- 13, Chisapani has been arrested in charge of stealing four purses from Pokhara.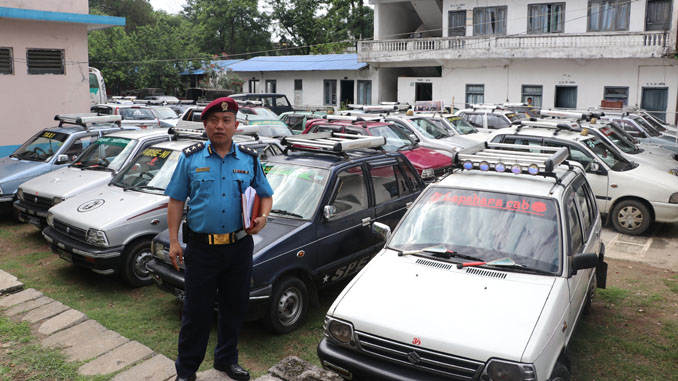 Pictures: DPO Kaski