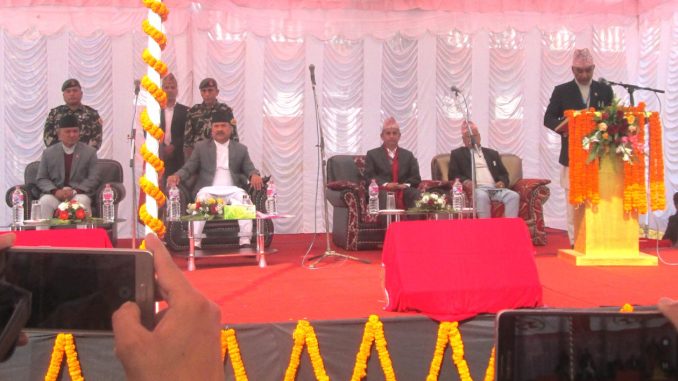 Pokhara—Newly appointed Province 4 Chief Minister Prithvi Subba Gurung took the oath of his office and secrecy today. Province 4 Governor Baburam Kunwar administered oath to CM Gurung in a special ceremony organized in former's office at Ratna Puri.
At the same time, Province 4 assembly member Netra Nath Adhikari also was sworn in as a Province 4 speaker. Similarly, newly appointed province minister Ram Sharan Basnet also was sworn in during the ceremony. Governor Kunwar administered oath to both of them.
Basnet was given the responsibility of Industry, Tourism, Forest and Environment Ministry of Province 4. CM Gurung, speaker Adhikari and minister Basnet also assumed their office following their swearing in today. The cabinet meeting of Province 4 decided to available electricity supply to all the households of this province within five years of time.