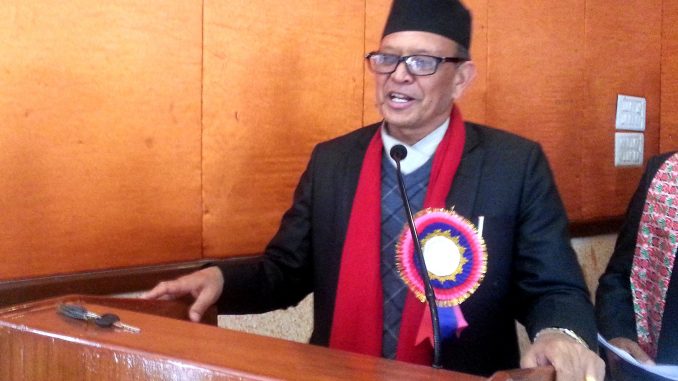 By Rup Narayan Dhakal : Pokhara—Pokhara Lekhnath Metropolitan City (PLMC) Mayor Man Bahadur GC accused the Ward Police Office Baidam of carrying out unnecessary checking in Pokhara base hotels and lodges.
Addressing a 37th Annual General Meeting of Western Regional Hotel Association (WRHA) Pokhara on Friday, GC criticized the police actions that according to him have been happening especially in Lakeside hotels for years. "Police action should be carried out in hotels and lodges only if there happens something illegal," GC said. He also claimed that tourism can't flourish if there happens unnecessary checking.
He also asked all the tourism entrepreneurs from Pokhara to make this city very clean, neat and beautiful so that every domestic and foreign tourist wishes to visit Pokhara. That idea is better than going for promotion out of this city- he added. He also suggested tourism entrepreneurs to utilize and monetize the natural beauty instead of only seeing and enjoying it.
Talking about the swearing in ceremony of Chief Minister of Province 4, he informed there would be added extra 200 government vehicles in Pokhara from today. In this context, he said, we have also responsibility of managing traffic in Pokhara. Mayor GC also said that he was for Pokhara development and ready for bounded dictatorship.
Professor Dr. Indra Prasad Tiwari has presented key note speech on Prosperity and Tourism of Province 4 during the AGM. Hotel Association Nepal General Secretary Binayek Shah, WRHA Pokhara advisor and PCCI Chairman Bishwo Shankar Palikhe, WRHA first Vice Chairman Laxman Subedi and WRHA General Secretary Ganesh Raj Pahari also expressed their remarks during the ceremony chaired by WRHA chairman Bikal Tulachan who stressed on connectivity and infrastructure development to lure more tourist to Pokhara.