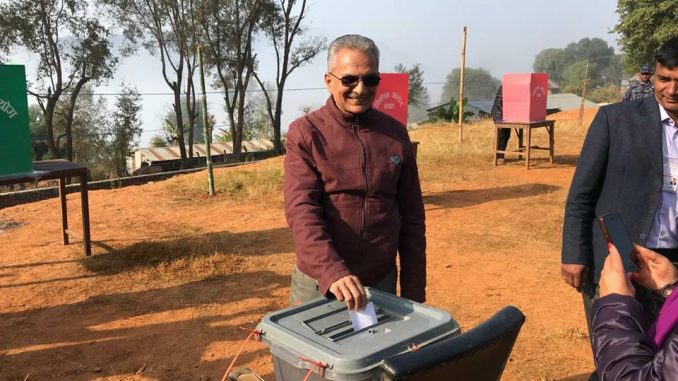 Pokhara—The first phase of parliamentary and provincial polls have concluded peacefully apart from few incidents in some polling booths in Nepal today. According to Chief Election Commissioner Dr Ayodhi Prasad Yadhav, it has been preliminary projected that some 65 percent of votes have been cast in the polls. Voters cast their votes from 7am to 5pm in 32 districts. The first phase of polls will select 37 members of parliament and 74 members of provincial assembly. More than 3,191,000 voters were eligible to cast their vote today.
According to reports, two polling booths of West Rukum district would see repolling in December 7 as someone reportedly had sprinkled acid in ballot boxes during the polls. Similarly, two CPN-UML supporters reportedly injured when they were knife-attacked by their rival group in Taplejung district. In spite of numbers of explosions in Thawang of Rolpa, polling has concluded peacefully in this district.
Likewise, two cops including a temporary cop have been injured as an unidentified group opened fire in Kalyanpur Municipality- 5 of Siraha today. Injured cops have been identified as Mageram Yadav and temporary cop Adarsha Yadav. They have been airlifted to Kathmandu for further treatment. No force has claimed the responsibility of incident. There was no poll today.
Now, the security personnel are busy to collect and fetch the ballot boxes to the district headquarters. Ballot boxes from remote areas would also be airlifted to the district headquarters. The vote counting will begin from December 8 as the second phase of polls completed in December 7.