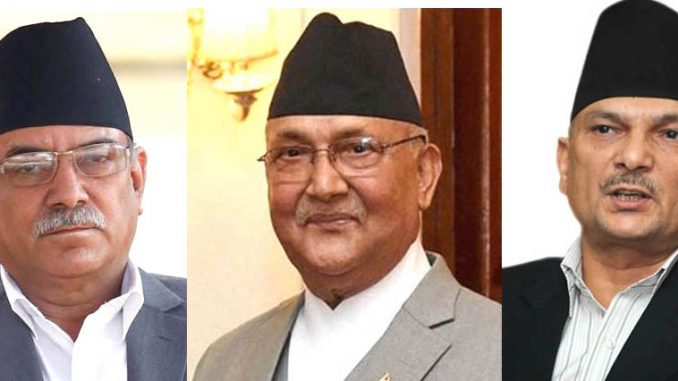 By Rup Narayan Dhakal: Pokhara—CPN-UML, ruling CPN-MC and Naya Shakti Party Nepal have signed an accord to merge their parties following the coordination in upcoming federal and provincial election slated for Nov 26 and Dec 7, in Kathmandu today.
CPN-UML Chairman KP Sharma Oli, CPN-MC Chairman Pushpa Kamal Dahal Prachanda and Naya Shakti Party Nepal coordinator Dr. Baburam Bhattarai signed the accords and exchanged them. They however will vie elections in their own election signs before giving the final touch to party unification. Organizing a joint press conference in National Assembly Hall Kathmandu, they have signed and revealed their 6 points agreement.
According to dealing, CPN-UML and CPN-MC will vie the election with a ratio of 60:40 after giving the seats to other alliance member party. Earlier, it was said that they will face the elections basing on a single election sign of CPN-UML i.e. sun. They have also formed a Unification Coordination Committee to make a strong left party.
CPN-MC Chairman and former PM Pushpa Kamal Dahal however assured the PM Sher Bahadur Deuba that his party won't pull out the support from the government in spite of this unification among the left forces. Naya Shakti Party, Nepal has also been included in this alliance and unification process.  Earlier, NSP Nepal coordinator and former PM Dr. Baburam Bhattarai held a talk with CPN-UML Chairman KP Sharma Oli to forge an electoral alliance.
According to CPN-MC leader Narayan Kaji Shrestha, a meeting held in a private house of Lalitpur made a final deal for the coordination in elections as well as party unification.