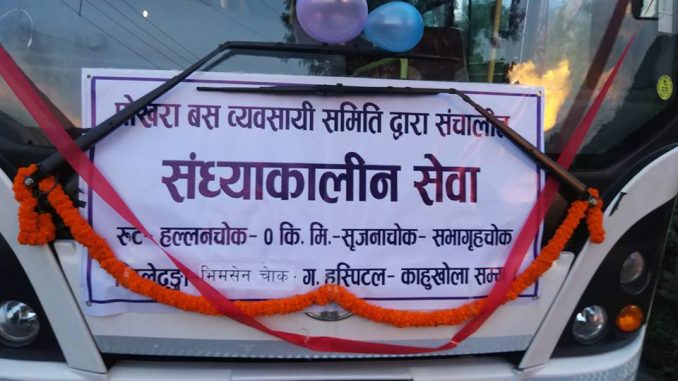 Pokhara—Pokhara Bus Entrepreneurs' Committee has commenced the evening public bus service from Friday in Pokhara. Passengers now can get the bus service till 9 pm following the inauguration of such service.
Pokhara Lekhnath Metropolitan City Mayor Man Bahadur GC and Kaski Chief District Officer Tara Natha Adhikari formally kicked off the evening bus service in Hallan Chok. Mayor GC suggested the committee to provide effective bus services to the passengers during a small inauguration ceremony.
CDO Adhikari informed that the evening bus service was started to provide the domestic and foreign tourists including local people as Pokhara is the touristic town of Nepal.
Tourists who visit Pokhara and local people were forced to take expensive taxi service as the city bus service used to be available only till 7 pm. Now, the committee has managed two major routes and 8 buses that leave for destination in the gap of every half an hour.
According to committee secretary Amrit Sharma Timilsina, the first route will go through Hallan Chok of Lakeside- Barahi Chok- Rastra Bank- Birauta- Airport- Prithvi Chok- Mahendrapul- Natipur and Bagar. Similarly, the next route covers Zero KM- Srijana Chok- City Hall- Chipledhunga- Mahendra Pul- Prithvi Chok-Western Regional Hospital-Matepani and Kahun Khola.