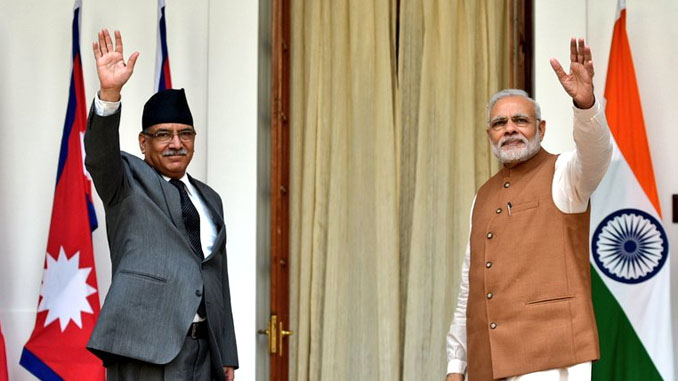 Recentfusion.com—New Delhi: Indian Prime Minister Narendra Modi expressed his hopefulness that Nepal would be successful in implementing its constitution, incorporating the aspiration of all Nepalese people. PM Modi's remarks came out in a press meet following a one-on-one visit with Prime Minister Pushpa Kamal Dahal who is in New Delhi for his four day state visit, in Hyderabad House.
PM Modi also stressed on cooperation between security and defense agencies. He also suggested PM Dahal to address the demands of Madhesi, Janajatis and Tharus in the constitution of Nepal. Saying that India is the important partner in the development and prosperity of Nepal, Modi added that India is for the peace, stability and prosperity of Nepal. He also put his concern over the possible misuse of Nepali land against India.
Talking in a press meet in Hyderabad House, PM Dahal said that the promulgating constitution in Nepal was a historic achievement. PM Dahal also stressed on the implementation of previously sign projects between two countries. Dahal ended his remarks in a joint press meet inviting PM Modi to Nepal. PM Dahal also informed that the talk between two countries will be held in near future to expedite the Pancheshwar Multipurpose project. The road map would be prepared to forward the stopped projects.
Likewise, Nepal and India signed in a three point accord. The commencement of Project management and consultancy service of Postal road, USD 750 million soft loan to Nepal to reconstruct the quake hit areas of Nepal and the delivery of Indian aid which was previously promised for quake hit area of Nepal are included in that signing. PM Dahal also informed that he discussed with PM Modi about the commerce, energy, connectivity, unified checkpoint in border, electricity import, construction of transmission line and the use of Indian sky for more air routes.
PM Dahal also handed over the invitation letter to Indian President Pranav Mukherjee on behalf of Nepalese President Bidhya Devi Bhandari. President Mukherjee Nepal's visit would be held following the Nepali festival Tihar. PM Dahal also met Extranal Affairs Minister of India Sushma Swaraj, Finance Minister Arun Jaitley, Piyush Goyal, the Minister of State with Independent Charge for Power, Coal, New and Renewable Energy and Mines, Ram Madhav, BJP General Secretary, journalist Anand Swaroop and Nepal expert SD Muni on Friday.