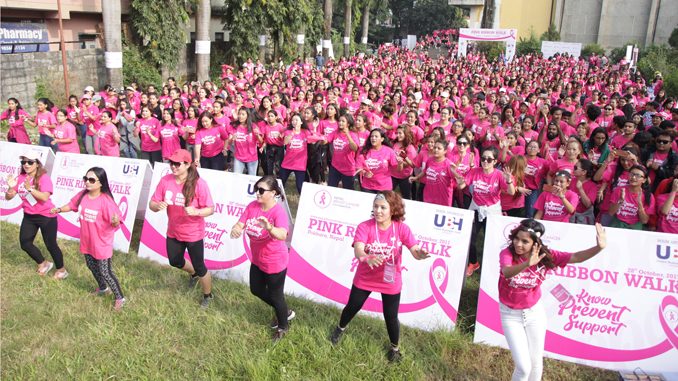 Pokhara—Hundreds of people marched in the street of Pokhara to spread awareness against the breast cancer first time in Lake City on Saturday. The two km long rally was commenced by Pokhara Lekhnath Metropolitan City Mayor Man Bahadur GC. Lions Club International District 325 B Governor Dhanraj Acharya, NBCF chairman Dr. Sujita Hirachan including other took part in the rally.
The rally was organized by Nepal Breast Cancer Foundation (NBCF) and was started from Pokhara City Hall and went through New Road, Chipledhunga, Mahendrapul, Naya Bazaar, Prithvi Chok to reach again to City Hall where participants had Zumba amid of awareness program which was entitled 'Let's save and be saved' from breast cancer.
At the same time, Dr. Hirachan informed that extra 5,000 breast cancer cases are diagnosed every year in Nepal however there is still lack of awareness against such fatal disease. United Reference Laboratory Pokhara director Thakur Prasad Panta said that regular checkup and awareness could save a woman from the breast cancer.
Consultation with a doctor and regular checkup are the best ways to avoid cancer. Modern lifestyle, severe anxiety and bad food habits cause the cancer. One of the speakers Shanti Udas asked women to come on open talk instead of hiding their problem and disease to be saved from breast cancer.