By Rup Narayan Dhakal—Pokhara: Machhapuchhre Model Trek which was explored 9 years before in Nepal's Kaski district boasts for peaceful adventure. The trek that confines in seven village development committees lying just below the magnificent Annapurna mountain massif is natural and rich in flora and fauna too.
The weeklong model trek was explored by Trekking Agencies' Association of Nepal (TAAN) Western Regional Association Pokhara as world famous Round Annapurna Trek has been overlapped by road building.
Trekkers can hear the barking sounds of deer and chirping of birds from their campsites while ascending or descending the trek. The newly opened model trek, elevates 900m to 3,700m, comes across the northern VDCs- Ghachok, Lahachok, Machhapuchhre, Lwang Ghalel, Ribhan, Sardikhola and Dhital- of Kaski district. Korchon, which is locally known as Korja is the highest point of this route. According to TAAN former president Narayan Prasad Sapkota, the specialties of the trek are- secret, natural and less crowded.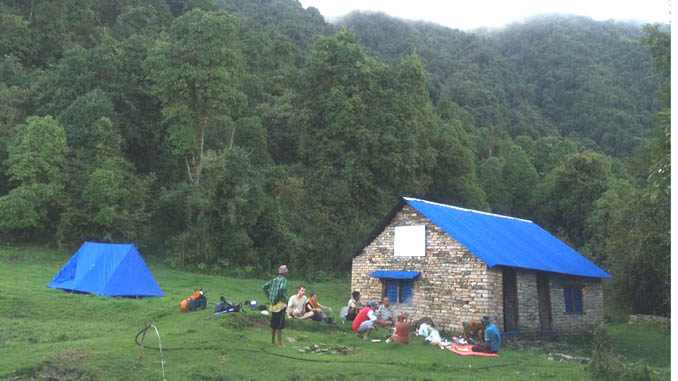 Himalayan Discovery Nepal (HDNPL) Trekking Pvt. Ltd. managing director Alex Nepal aka Suresh Lamsal who recently trekked that route with a team of German trekkers, informed that the model trek is culturally rich and tourist can enjoy local organic foods with an experience of camping as well as homestay on same trek. Jan Rosemann, 25, and Mia Kreska, 23, from Germany who trekked that route expressed their happiness with HDNPL that they had completely different experience while on the trekking.
Trekkers can start model trek after a night stay in Ghachok/Lahachok. The 2nd night will be in Hile Kharka and 3rd one will be Khumai before starting the 4th day trek up to Korchan aka Korja (3700m). Khumai is the fourth day's night stay camp and Mirsa/Rumja will be the 5th night station before starting the 6th day trek to Hot Spring then drive back to Pokhara.
TAAN and the National Centre of Competence in Research (NCCR) North-South, South Asia Regional Coordination Office and Partnership Actions for Mitigating Syndromes (PAMS) project built few porter centers in separate camp sites along the model trek. Nepal Tourism Board, Annapurna Conservation Area Project (ACAP), NCCR and PAMS had assisted the TAAN in the exploration, development and promotion of this model trek which is the fusion of nature, culture and adventure.
Numbers of hot spring pools in the bank of Seti River, facility of recreation on snow even in the month of April, observation of various spices of pheasants, the Annapurna Mountain Range including virgin peak Machhapuchhre (Fishtail), flora and fauna are the major attractions of this route. More than half dozens of caves, waterfalls, wildlife, teagardens, rural handicrafts and culture also could be observed and enjoyed here. Most of the people are the Gurung and the farming, animal husbandry and remittance are the major sources of income.