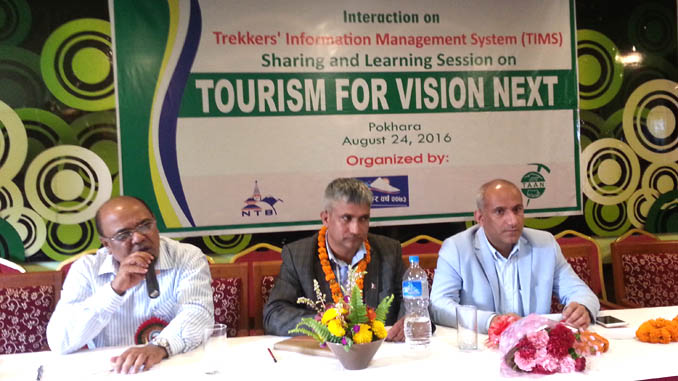 By Rup Narayan Dhakal–Pokhara: The development and promotion works in trekking tourism have been adversely affected by the row over the unaudited amount collected from foreign trekkers through Trekkers' Information Management System (TIMS), in Nepal.
The Nepal Tourism Board (NTB) and Trekking Agencies' Association of Nepal (TAAN) are the authorized bodies to collect the fees through TIMS that has been imposing since 1st April of 2010 in Nepal.
TIMS was launched for the safety and security of trekkers, to operate rescue tasks in tourism regions, to create trekkers' information database and to curb the illegal trekking in Nepal. The government had given the responsibility to NTB and TAAN to apply the TIMS. According to MoU signed by TAAN and NTB, the 1/3 share of the collected amount goes to their respective account each and 1/3 in a joint account operated by them.
NTB senior deputy manager Nabin Pokhrel claimed that the problem surfaced as there was around 140 million rupees still unaudited spent by TAAN. According to him, NTB stopped to send 1/3 share to TAAN as Office of the Auditor General questioned over the spending by TAAN, since 2014. He also disclosed that around 700 million rupees amount was collected till the time since the TIMS applied in 2010.
He also said that all total 200 million rupees collected as TIMS by NTB were spent for tourism promotion and it also gave around 140 million rupees to TAAN as latter's share amount.
TAAN president Chandra Prasad Rijal said there is no TIMS's fund in TAAN's account now, to spend for the promotion and development of tourism work. 'We can do nothing until the fund withdrawal from joint account operated by TAAN and NTB,' said Rijal. Rijal further added that the TAAN failed to spend any amount for the development and promotion of tourism though he was elected 11 months before as president. He also claimed that the entire amount what was said to be unaudited was not actually unaudited and was spent during the tenure of previous two executive bodies.
Tourism Department Director General Sudarshan Dhakal ordered TAAN to spend TIMS's amount responsibly and not to misuse it in the name of visit of foreign nations. NTB CEO Deepak Raj Joshi said that NTB and TAAN should sort out the dispute and problems as they are the stakeholders of the TIMS.
TAAN president Rijal and NTB CEO Joshi failed to tell the total amount that was collected till the date since the TIMS was implemented. In TIMS related interaction jointly organized by TAAN and NTB in Pokhara, participants urged to sort out the TIMS related dispute as soon as possible and to deploy the funds collected through TIMS, in the major trekking destinations. Free individual trekker should pay USD 20 while trekker who trek in group should pay USD 10 for TIMS card.
Former Tourism Mininster and CPN-MC tourism department chief Lekendra Bista, Nepali Congress central member Govinda Bhattarai, TAAN center committee member and TIMS coordinator Tara Nath Lamichhane, CPN-UML tourism department chief Surya Thapa and TAAN western regional association president Ram Chandra Sharma also expressed their views during the session.