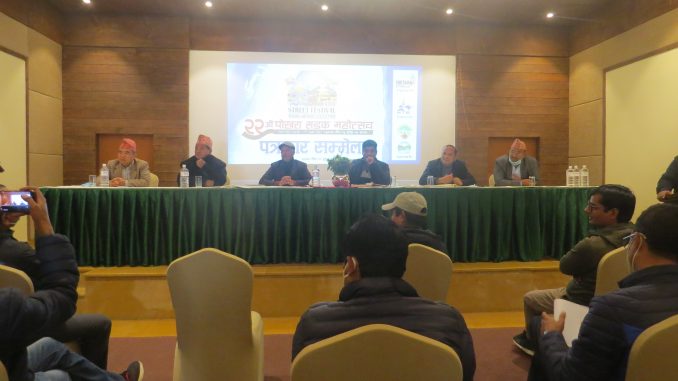 By Rup Narayan Dhakal : Pokhara—Restaurant and Bar Association Nepal (REBAN) Pokhara is to host 22nd Pokhara Street Festival (PSF) 2020/2021 this time too amid a Covid- 19 pandemic.
According to festival Coordinator Basanta Gautam, the festival is to be organized from 30th Dec to 1st January in the street of Lakeside, Pokhara. 'We are going to organizing this festival to spread the message that Pokhara is open,' said Gautam in a press meet.
PSF has been organizing for more than 21 years on the occasion of Christmas and the English New Year. This is the 22nd edition of the festival which contains some stage performances and the display and sales of varieties of foods. Festival joint coordinator Bhisma Raj Paudel claimed that necessary safety measures and health protocols are to be followed in the festival.
At the same time, Pokhara Tourism Council Chairman Gopi Bahadur Bhattarai, REBAN Pokhara advisor Surya Bahadur Bhujel, Paschimanchal Hotel Association Pokhara vice Chairman Laxman Subedi, NATTA Pokhara Chairman Sanjay Kanta Sigdel and TESA Pokhara Chairman Ramchandra Giri also put their views during the press meet.