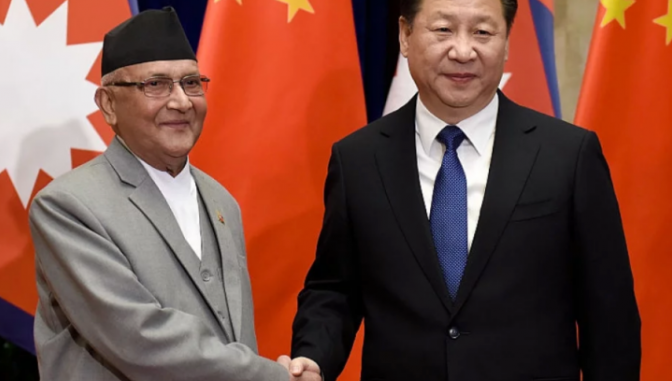 Pokhara—Prime Minister KP Sharma Oli held one on one meeting with Chinese President Xi Jinping in Great Hall of the People on Wednesday. PM Oli is in Beijing during his five day official visit to China.
They discussed on giving the new height to the two communist parties and their governments. The delegation level meeting was hold following the meetign between Oli and Xi. Earlier PM Oli condoled the statue of Mao Zedong, leader of Chinese revolution. Oli had left for China in the invitation of Chinese Premier Li Keqiang on Tuesday.
PM Oli earlier today addressed the meeting of Neal China Business Forum and took part in the Nepalese and Chinese investers meeting of MoU clinching on energy, cement and pasmina industry.
PM oli is being acompanied by his spouse Radhika Sakya, Home Minister Ram Bahadur Thapa, Foreign Affaris Minister Pradip Kumar Gyali, Energy Minister Barsaman Pun, Physical Infrastrucuter Minister Raghubir Mahaseth, businessmen and media persons.