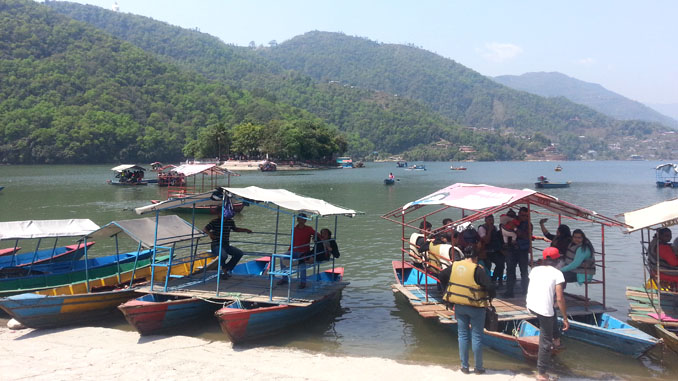 Pokhara—Lakeside, one of the most happening places of Lake City Pokhara is going to be declared 'No Vehicle Zone' from March 23, concerned authorities informed.
Situated at ward number 6 of Pokhara Lekhnath Mentropolitan City, Lakeside is the tourist point of Pokhara. The ward 6 office, tourism related organizations, ward police office Baidam and Community Police Service Center Baidam are key organizations that are all set to announce the Lakeside a NVZ.
According to ward 6 chairman and program coordinator Jagat Bahadur Pahari, NVC will be implemented on every Friday and Saturday within a 1 km road distance in between Hallan Chowk and Barahi Chowk from 5pm to 1 am. The NVZ distance would be extended if this pilot project gets success, informed CPSC Chairman Bhim Parajuli.
Lakeside will be more peaceful, secured, dustless and vehicle free following the enforcement of the program, Ward Police Office Baidam Chief DSP Navin Karki told to the reporters. Nepal Tourism Board Province 4 Chief Surya Thapaliya informed that his office would carry out cultural program at NVZ fortnightly.
Earlier, in 2011, NVZ was announced in Lakeside for every Saturday but it discontinued in six months due to various hurdles.