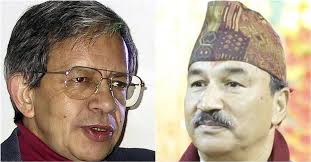 Kathmandu—Rastriya Prajatantra Party spilt up and a new party- Rastriya Prajatantra Party (Democratic) has been registered in Election Commission in the leadership of senior leader Pashupati Shamsher Rana this afternoon.
According to newly formed RPP- D leader Raja Ram Shrestha, the formal party formation procedure has been started with 75 RPP center members and 19 lawmakers. But, RPP chairman Kamal Thapa claimed that most of the signatures are fake and forged.
Newly formed party leaders have accused RPP of not doing appropriate evaluation of party cadres. Unilateral decision in party by RPP chairman Kamal Thapa and the party establishment's variation over the prime principles that is Hindu Nation and monarchy are also some blames that newly formed party has made public.
Senior leader Rana used to absent in RPP center committee meetings and was dissatisfy over the recent 'authoritarian' nomination by RPP chairman Thapa of 42 center members in the party. Thapa led RPP Nepal and RPP were merged some 8 months before and a unification convention was held five month before. The fourth largest party RPP had 37 lawmakers in the house after the unification- 24 from Thapa-led RPP-Nepal and 13 from Rana-led RPP.
Earlier, Dr. Prakash Chandra Lohoni had formed separate RPP (socialist) in his presidency accusing unified RPP of being unable to form national direction committee and of being deviated to power. Election Commission is now verifying the names newly formed party executives whose lot must be 40 percent of their former party.