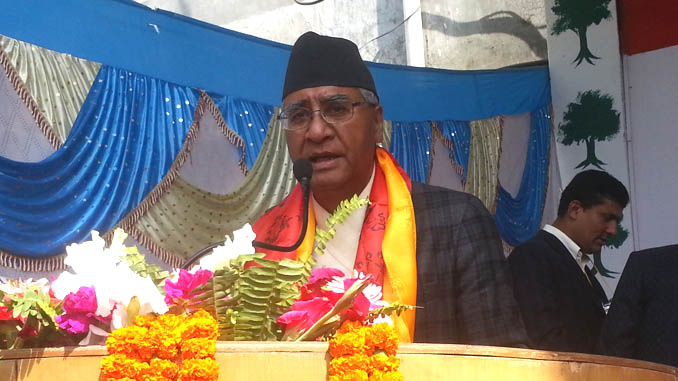 Pokhara: Nepali Congress Chairman Sher Bahadur Deuba asked not to distrust Madhesi people. Speaking to journalists in the premises of Nepali Congress Kaski Party Office today, Deuba, hinting main opposition CPN-UML asked to respect the Madhesi people.
'Madheshi are safeguarding our southern border, he further added- 'let's not distrust them.' Deuba was here in Pokhara to inaugurate the Nepali Congress Pokhara Urban Committee gathering. According to him, CPN-UML has no benefit having a tag of anti-Madhesi party.
Deuba was speaking in Pokhara after the postponement of CPN-UML's Mechi-Kali Campaign for three days after the killing of 4 United Democratic Madhesi Front's demonstrators in Police firing in Saptari. Deuba also stressed on talk and consensus among the parties for constitution amendment.
Earlier today, addressing the NC mass meeting, Deuba asked his party leaders and cadres to pick such a civic poll candidates who win the election for sure. He further asked his concern committee not to choose candidates basing on 'my person and your person'.
He also warned of punishment for  NC leader and cadres if they play role to defeat their own party candidate in local election. Claiming that, NC was key role player to outs Rana and Panchayet as well as played key role to establish republic in Nepal, Deuba said that the people would be masters if NC win the polls.


Pictures: Recentfusion.com