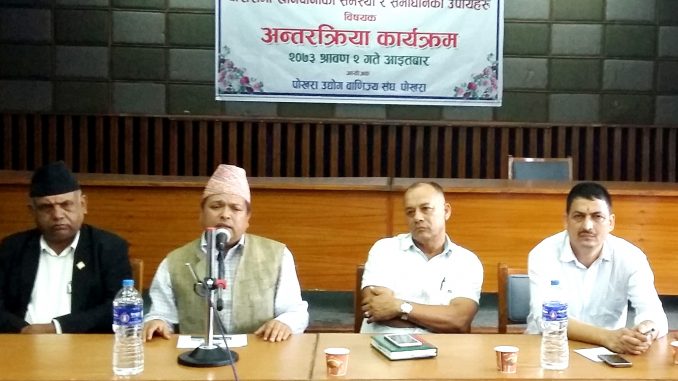 Recentfusion.com–Pokhara: People from Pokhara will get WHO standard pure drinking water by January 2020 as the city is going to receive 5 billion Nepali Rupees aid by Japan International Cooperation Agency (JAICA) soon.
The information came out in an interaction organized by Pokhara Chamber of Commerce and Industry (PCCI) in Pokhara on Sunday. But Dr. Parmeshowar Pokhrel, president of Nepal Water-supply Corporation, however informed that the MoU between JACA and Pokhara Sub Metropolitan City Office is due to be signed which has been supposed to clinch in coming October.
According to Dr. Pokhrel the project contains pipe line extension, installation of water treatment plant and construction of 3 reservoir tanks in different locations of Pokhara simultaneously. Mardi Khola Sarokar Committee former president Gopal Giri and vice chairman Ram Gurung demanded to fulfill the demands of locals around Mardi stream which is the major water source of Pokhara.
PCCI president Bindu Kumar Thapa expressed his commitment that his organization will support to bring the project in success. Niran Maharjan, chief of Nepal Water-supply Corporation Pokhara informed that Pokhara needs 65 million liters of water daily but his corporation has been supplying 45 million liters of water.