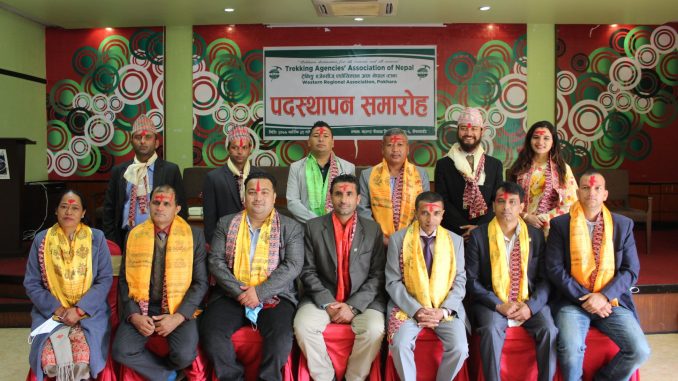 By Rup Narayan Dhakal : Pokhara—The newly elected Trekking Agencies' Association of Nepal (TAAN) Western Regional Association Pokhara executives took the oath of their office and secrecy in Lakeside on Friday. TAAN WRA Pokhara election committee coordinator Dambar Bahadur KC administered the oath of office amid a formal ceremony organized at Mount Kailash Resort.
Addressing the ceremony, Mr. KC who is also a past chairman of TAAN WRA Pokhara asked all the newly elected executives to give that institution to a new height through their hard work and dedication. He also asked the committee members to work for the welfare of trekking entrepreneurs and trekking workers.
At the same time, TAAN WRA Pokhara immediate past president Hari Bhujel thanked all the past committee members for their support to make his tenure a good success. He also suggested all the TAAN members maintain the secrecy of TAAN. He also mentioned the jobs that were done during his presidency.
Similarly, TAAN WRA Pokhara newly elected chairman Sushil Raj Poudel made clear that he would work for the betterment of trekking workers and trekking entrepreneurs. He also added that he will follow the technology to make the job done smartly in the context of 21st century. Branding of tourism products and branding of businesses are also on his bucket list. 'I will also coordinate with three tires of governments of Nepal to make the tourism sector better,' he added.
TAAN WRA Pokhara past chairmen Keshav Bahadur Thapa, Som Bahadur Thapa, Ram Chandra Sharma, and Deepak Raj Adhikari were at present in the program.