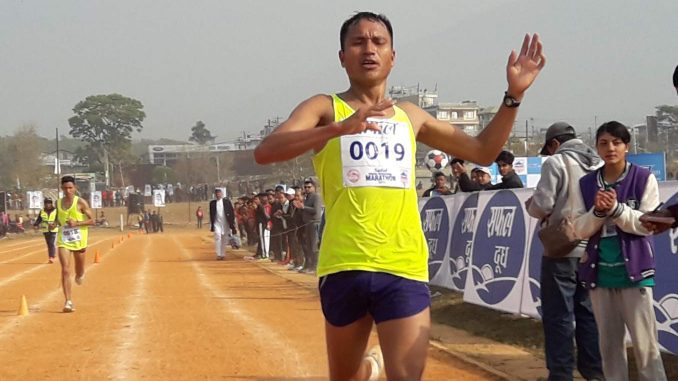 Pokhara: Naba Raj Saud of Nepal Army (NA) won the title of 11th Safal Pokhara International Marathon in Pokhara on Saturday. Saud finished 42.195 km distance in 2 hours 35 minutes and 24 seconds to bag Rs 60,000. First runner up Lal Bahadur Thapa of NA completed stipulated distance in 2 hours 34 minutes and 57 seconds, while second runner up Gyan Prasad Bhattarai finished in 2 hours 36 minutes 4 seconds. They bagged Rs 40,000 and Rs 25,000 respectively.
Champion Saud said that he felt very happy as he became the winner of the reputed competition. He had also won the title of marathon in Hetaud in last Mangsir of Nepali month. Likewise, in school level 5 km race, Mahendra Rajbhandari of Jnajyoti School secured first position. Gaurav Subedi of Chhorepatan Higher Secondary School became first runner up and Prajwal Rai of Surya Academy finished 2nd runner up to bag Rs 7,000, Rs 5,000 and Rs 3,000 respectively.
In school level female competition, Lalita Lamichhane of Laxmi secondary School got the first position. Ashmita Magar of Sukra Raj Balbhadra School became first runner up, while Srishti Chaudhary of Sahid Smriti became 2nd runner up. They also got Rs 7,000, Rs 5,000 and Rs 3,000 respectively.
Suresh Gauli, Bharat Adhikari and Dhurba Neupane became first, second and third in 800 m wheelchair race to bag Rs 3,000, Rs 2,000 and Rs 1,000 respectively. The marathon was started from Pokhara Stadium and athletes run in the streets of Pokhara and Lekhnath Municipality to cover stipulated distance. The Ex-Athlete Forum (EAF) Nepal hosted this marathon to develop Pokhara as a city of sports and tourism. Suja Dairy, the producer of Sfal Milk was the main sponsor of the race promoted by Nepal Tourism Board.