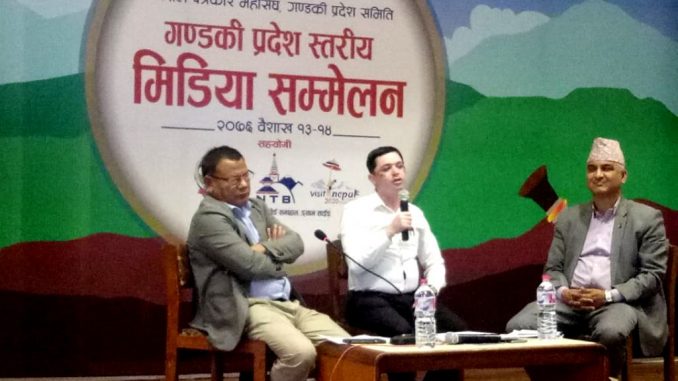 Pokhara—Issuing a five-point declaration, the Gandaki Province level Media Summit has concluded in Pokhara on Saturday. The summit has drawn an attention of government to stop the ongoing attack on media and the freedom of speech.
Similarly, the declaration also condemned the arrest of many journalists only for their news reporting and urged not to violate the constitutional rights. At the same time, protection of civic rights and the forging of media friendly laws also are the demands confined in the declaration.
Likewise, the summit also urged the respective media houses to implement the working journalists' act and the proportional advertisement policy to the government. At last, the summit has urged the Gandaki Province government to priorities the inclusiveness in journalism, prosperity through that kind of journalism, child friendly journalism as well as tourism promotion for the prosperity of that province.
The two-day summit also thanked to the province government, Nepal Tourism Board, tourism related organizations, participant journalists from different districts and FNJ central committee for their participation in the summit. Earlier, the summit has discussed on the issue of tourism and journalism this morning, informed FNJ Gandaki chairman Tribhuban Paudel.