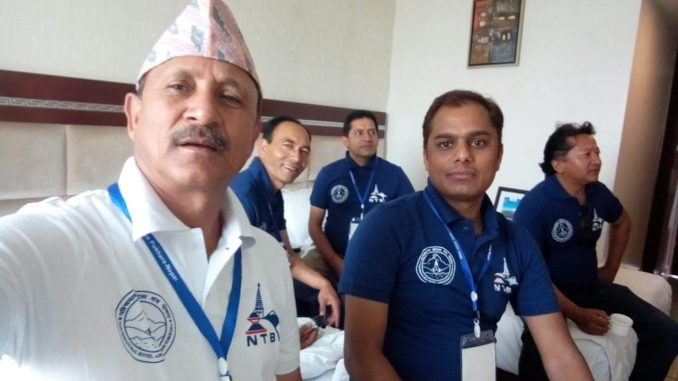 Pokhara—Chaliye Pokhara- Let's go to Pokhar, campaign launched by Paschimanchal Hotel Association Pokhara (PHAP) in association with Nepal Tourism Board is undergoing in northern Indian cities since July 11.
According to PHAP Chairman Bikal Tulachan, the campaign aims the promotion of Pokhara in Indian cities under border town sales mission. He further added that the temperature in most of the Indian cities is soaring now and the campaign motivates the Indian citizens to go to Pokhara to skip the scorching heat of those areas.
The campaign was first launched in 2012 during the tenure of erstwhile PHAN Chairman Biplab Paudel. Continuing this campaign Patna, Varanasi and Lucknow have been included during this time. Press meet and Business to Business meetings are the key parts of the campaign. Patna on July 12 has already seen such program where PHAP unveiled its visit packages of Rs 3,000 to 13,000 to the people of those cities.
At the same time, NTB Province 4 Chief Surya Thapaliya said that even this rainy season is good to visit Pokhara for Indian tourists though September to February is the best season. He further added that the road access to Pokhara from Bihar is now better than before as Narayangadh-Mugling road is perfectly operational.
Tourism Association Bihar Chairman Sanjay Sharma said that Pokhara is good place to visit for Bihari people as the destination is not so much expensive. He however suggested visiting Nepali entrepreneurs and journalists to ease all the hurdles facing Indian tourists in cross border area.
Tourism entrepreneur from Patna Gaurav Kumar said that the people from Bihar are interested about Muktinath following the recent visit of Indian Prime Minister Narendra Modi. He also stressed on the direct flight from Patna to Pokhara.