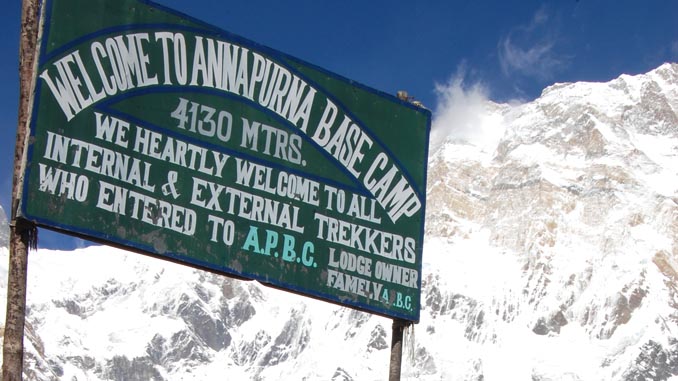 By Rup Narayan Dhakal : Pokhara—The first Annapurna Sanctuary Tourism Festival (ASTF) kicked off at Annapunra Base Camp (ABC) in Nepal's Kaski District on Wednesday. Lawmaker and chairman of Parliamentary Development Committee Rabindra Adhikari formally inaugurated the festival in a special ceremony organized in the elevation of 4,130 meter from sea level.
Laying a foundation stone to make a statue of Maurice Herzog at ABC, Adhikari stressed on a need of conservation and utilization of natural resources of Nepal. French national late Herzog is the first man who had scaled Annapurna I (8,091 m) in June 3, 1950, three year earlier than the Mt. Everest was scaled (on 29 May, 1953) by Tenzing Norgay and Edmund Hillary.
At the same time, Herzog's family members, Herzog liaison officer Col Ghana Bikram Rana, Sardar Aang Tharke Sherpa and tourism expert Jhalak Thapa were felicitated during the ceremony. So, Annapurna first is known as the eldest peak in the history of mountaineering over the height of 8,000 meter. According to organizing committee coordinator Lalit Gurung, the festival aims to make Ananpurna Base Camp (ABC) trek which is also known as the Annapurna Sanctuary Trek more developed.
Lawmaker Sharada Paudel, Kaski Chief District Officer Tara Nath Adhikari, Annapurna Rural Municipality (ARM) Chief Youba Raj Kunwar, National Trust for Nature Conservation Member Secretary Govinda Gajurel, NTNC Executive Director Dr. Siddhartha Bajracharya, Nepal Tourism Boar Pokhara Chief Uday Bhattarai and Trekking Agencies' Association of Nepal Western Regional Association Pokhara Chairman Deepak Raj Adhikari expressed their remarks during the opening session.
The festival will be ended on coming June 3 which is also known as Annapurna Summit Day. ASTF Main Committee in association of ARM Kaski and Toruism Sub-Committee Chhomrong including other government and non-government organizations is organizing the festival in three phases. The concluding event would be organized in Ghandruk, one of the most popular tourist destinations of Annapurna Region.
A half size statue of French national Maurice Herzog would also be uncovered during the ending ceremony. According to publicity sub-committee coordinator Tanka Adhikari, it has been expected that around 10.5 million rupees will be spent to organize the festival. A total of 28,531 foreign tourists had visited this week long trek last year.