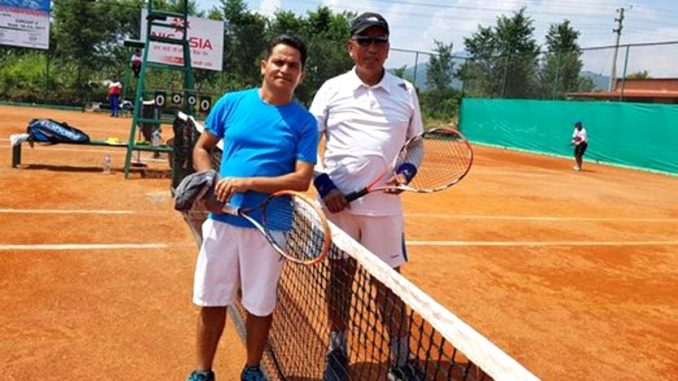 Pokhara—The NIC Asia Bank Nepal ITF (International Tennis Federation) Senior Championship Tennis Tournament has kicked off in Pokhara on Monday. Youth and Sports Minister Rajan KC inaugurated the tournament at a lawn tennis court in Pokhara stadium. He handed over a tennis ball to tournament director Ajay Bista to open the tournament.
Gopi Bahadur Bhattarai, Simanta Gurung, Raju Shrestha, Nima Lama, Kamales Sukla of India and Asish Parmar of India defeated their rivals in single category fight of over 35 years of age group, in opening matches of tournament organized by Kaski District Lawn Tennis Association (KDLTA). Likewise, Chandra Bhushan of India, Rajendra Prasad Ghimire, Narayan Pahari, Manoj Bikram Shah, Bijay Kumar of India, Raju Shrestha, Bikash Gurung, Bimal Kumar Gurung and Ashish Sigdel thrashed their rivals in single category matches over 45 years of age group.
The ITF circuit 1 matches are to be held from September 11 to 16 while circuit 2 matches from September 18 to 23. A total of 71 players from Nepal, India, and Finland are taking part in the tournament that would cover the matches of 35, 45 and 55 years of age group.
Nepal Tennis Association Chairman Jyoti Rana, KDLTA Chairman Binod Kayastha and KDLTA secretary Lok Gurung expressed their remarks during the opening event of the tournament.