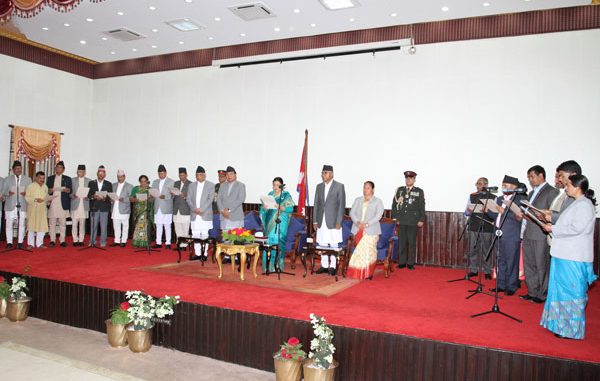 Pokhara—Newly appointed 19 ministers have been sworn in today in Kathmandu. President Bidhya Devi Bhandari administered the oath of office and secrecy to the ministers in a special function organized in Stial Niwas.
Prime Minister Sher Bahadur Deuba has extended the cabinet on today. The newly appointed ministers have been sworn in today itself. 10 ministers have been inducted from Nepali Congress, 6 from CPN Maoist Centre, 2 from Nepal Loktantrik Forum and 1 from CPN-United.
Yagya Bahadur Thapa- Minister for Law and Justice; Bhimsen Pradhan – Minister for Defence;  Rajan KC- Minister for Youth and Sports; Min Bishwakarma- Minister for Commerce; Ambika Basnet- Minister for Cooperatives and Poverty Alleviation; Mahendra Yadav- Minister for Water Supply and Sanitation;  Bir Bahadur Balayar- Minister for Physical Infrastructure and Transport; Mohan Basnet- Minister for Information and Communication;  Ram Krishna Yadav- Minister for Agricultural Development  have been inducted from the Nepali Congress in the cabinet.
Similarly, from the CPN-MC, Giriraj Mani Pokharel- Minister for Health; Santa Kumar Tharu – Minister for Livestock; Development; Mahendra Bahadur Shahi- Minister for Energy; Asha Koirala- Minister for Women, Children and Social Welfare Development; Tek Bahadur Basnet- Minister for General Administration; Shiva Kumar Mandal- Minister for Supplies;  Sanjay Kumar Gautam- Minister for Irrigation have been sworn in as the ministers.
The two ministers Gopal Dahati- Minister for Land Reforms and Management and Jeetendra Dev- Minister for Tourism, Civil Aviation and Culture are from the Loktantrik Forum when Mithila Chaudhary- Minister for Population and Environment is from the CPN-United. Following the this expansion, the cabinet has now 27 members in including PM Deuwa.