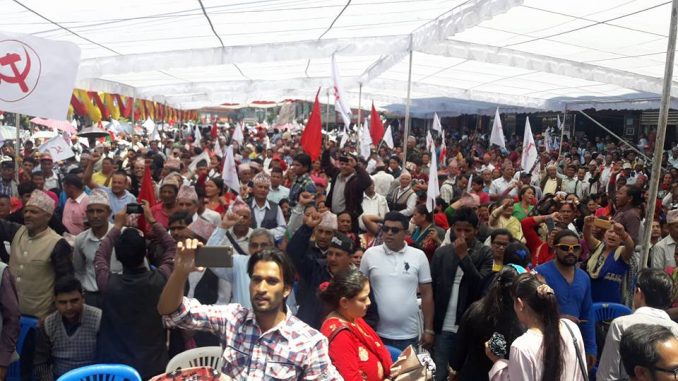 Pokhara—CPN-MC Province IV in-charge Dev Gurung urged all political parties for consensus to amend the constitution to address the demands of Tarai based parties and Janajatis before holding the civic polls in Nepal.
Gurung was addressing a mass meeting organized by his party Pokhara Lekhnath Metropolitan Committee in Pokhara today. Leader Gurung said that the federalism would face dangerous situation if the political parties adopt the prohibitory politics.
Accusing the main opposition CPN-UML of being the major hurdle in the process of constitution amendment, he stressed on the need of constitution amendment to make the constitution a common book. According to him, the country should face the violence if the nation doesn't address the demands of disgruntling forces.
Leader Gurung also claimed that the old constitution might be restored in the country if the existing one be failed due to the quarreling among the political parties. Gurung also urged all the concerns to make the civic polls a grand success in stipulated dates.
CPN-MC leader and energy minister Janardhan Shrama said that the prosperity is the key wish of Nepali people. He also claimed that his party would convert the country a prosperous land within the period of 15 years. He also claimed that the end of the load shedding was one of the major factor that caused the possibility of 7 percent of economic growth in the nation.
Earlier, Maoists leaders and cadres took part in rallies that marched in the streets of Pokhara to reach Chiple Dhunga of Pokhara this afternoon.