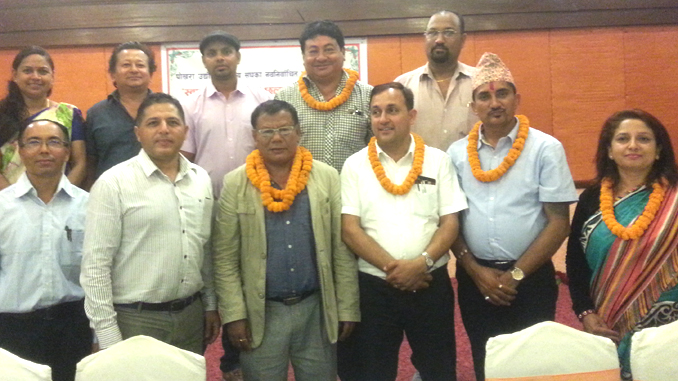 Recentfusion.com—Pokhara: Pokhara Chamber of Commerce and Industry (PCCI) newly elected president Bishwo Shankar Palikhe pledged that he would work for the development and promotion of tourism in Pokhara region.
Speaking in a program organized to congratulate him and his executives on Monday, Palikhe stressed on collective effort to open the Korala border point for the development of Pokhara and the whole tourism sector of that region.
He also informed that the construction work of Pokhara Regional International Airport would be expedited right after the Dashain Festival. Palikhe also vowed to work for the rights of domestic tourists over green number plate vehicles.
Western Regional Hotel Association (WRHA) Pokhara president Bharat Raj Parajuli said that hotel including whole tourism sector would like to co-operate with PCCI for the promotion and development of Pokhara.
WRHA founding President Ramesh Bahadur Bhattarai appealed to respective bodies to promote the Pokhara as a smart city. PCCI former president Ashok Palikhe suggested that PCCI could cooperate with tourism entrepreneurs establishing a tourism cell in PCCI secretariat.
Formation of Pokhara Development Authority, domestic tourists' right to travel in green number plate vehicles, provision of vice president towards tourism in PCCI executive body, recent diverting trend of tourists to east Nepal destinations and the problems of paragliding business in Pokhara were some of the issues discussed during the program.
National Tourism Council center member Basu Dev Tripathi, National Tourism Promotion Committee center member Govinda Raj Pahari, Pokhara Tourism Council former president Surya Bahadur Bhujel, WRHA Pokhara advisor Bachu Ram Tiwari, NATTA Pokhara president Dil Gautam, and Nepal Air Sports Association general secretary Basanta Raj Dawadi expressed their views about the tourism of Pokhara in the program.
Likewise, TAAN WRA Pokhara President Deepak Raj Adhikari, Book Shops Association Pokhara president Prem Prasad Sharma, EGA Pokhara president Puskal Thapa, REBAN Pokhara president Chau Bahadur Gurung, WRHA Pokhara vice president Bikal Tulachan and general secretary Bhekendra Kumar Shrestha also talked about the development and promotion of tourism in Pokhara region.