Pokhara—Van Dijk Jemie from France became the champion in the tourist race organized as run for fun on the sideline of 14th Fewa New Year Festival in Pokhara on Thursday. Baker from USA secured second position while, Jurrian Hansink from Netherland became third among the 260 participants.
In women category, Alyson Carlyon from USA, Ashley Acosta from USA and Jane from Australia secured first, second and third position respectively. Winners got Pokhara-Kathmandu flight ticket and first runner up received paragliding ticket for half an hour while third received Pokhara-Kathmandu deluxe bus ticket. All of the winners got tokens of love and a coupon of free cocktail dinner at Busy Bee Café Lakeside.
Festival organizer Western Regional Hotel Association (WRHA) Pokhara Chairman and festival coordinator Bikal Tulachan, WRHA immediate past president Bharat Raj Parajli, WRHA advisors duos Biplav Paudel and Govinda Raj Pahari distributed the prizes to the winners. A Russian man Nikolay in his crutches also completed the race that was started from Hallan Chok and ended at Fishtail Gate of Lakeside, Pokhara.
Festival coordinator duos Jack Tamang and Keshav Raj Pahari were key heroes who gathered all the participants most of them arrived Pokhara as visitors. They expressed their happiness for the overwhelming number of tourists who took part in the race that was followed by the play of Nepali traditional instruments. The festival which is sponsored by Gorkha Brewery and promoted by Nepal Tourism Board is undergoing at Komagane Park of Pokhara, informed WRHA Pokhara General Secretary Ganesh Raj Pahari.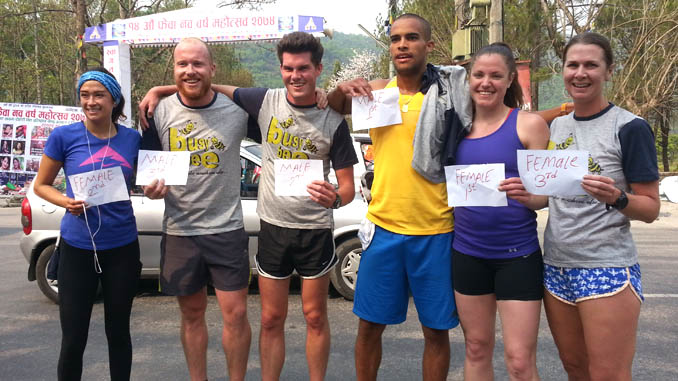 Pictures: Recentfusion.com