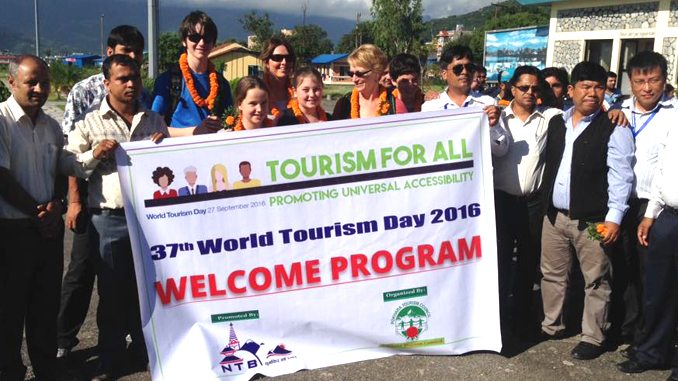 Recentfusion.com—Pokhara: The 37th World Tourism Day is being marked in Pokhara today. Tourists have been welcomed in programs organized by Pokhara Tourism Council (PTC) including tourism related organizations from here.
According to PTC vice president Chirinjibi Pokhrel, three tourists who first came out of the airplane landed in Pokhara airport were welcomed by tourism entrepreneurs from Pokhara.
Tourists were offered garlands, Panchai Baja and Tika during the event. Most of the entrepreneurs including tourists dances and enjoyed the event during the moment at airport. Likewise, tourists who arrived first in Tourist Bus Park Pokhara by bus were welcomed by same way.
All the first three tourists have been given the package of hiking, food coupon and travel tickets, informed PTC president Som Bahadur Thapa. Western Regional Hotel Association (WRHA) Pokhara members also are hoisting candlelight vigil in their hotels during the day. Hoteliers are offering discount in accommodation during the occasion, informed WRHA president Bharat Raj Parajuli.
Similarly, Restaurant and Bar Association Nepal (REBAN) kicked of Mini Street Festival few minutes ago in the street of Lakeside Pokhara. Food, music, live shows and cultural dances are the major attractions of the festival, informed event coordinator Baibhav Paudel. According to REBAN Pokhara president Chau Bahadur Gurung, the event will continue till mid night.