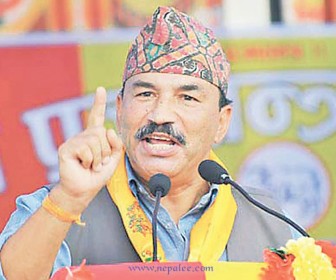 Recentfusion.com—Pokhara: Rastriya Prajatantra Party (RPP) Nepal President Kamal Thapa urged for referendum to settle the issue of Hindu State. Thapa, who is also a Deputy Prime Minister of Nepal, demanded referendum  on whether the nation to retain  secularism or adopt Hinduism.
Thapa was inaugurating the 3rd Kaski District Convention of RPP Nepal on Friday in Pokhara. He claimed that 80 percent of Nepalis are Hindu so according to him, it's ironic not to go for referendum on such a curtail issue. He also said that the local body election could be held on November/December as government previously announcement if the State Restructuring Committee submits its report within August/September.
Adding that the implementation of constitution is important task of the government, Thapa said some political parties are hindering that course. "If there is political stability in Nepal, we could develop and make the country prosperous within few years."Thapa Said.