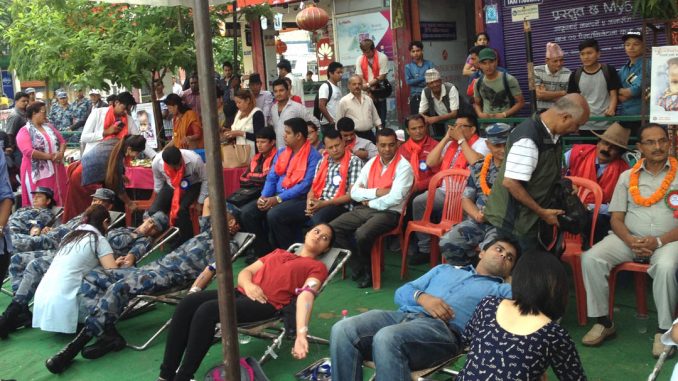 Recentfusion.com–Pokhara: All total 75 units of blood have been donated during a program organized by Rastriya Lok Dohori Geet Pratisthan (RLDGP) Gandaki on Tuesday. According to program coordinator, Surendra Gurung, such program has been launching for 5 years now.
The program was a part of World Blood Donners' Day. Armed Police Force Muktinath Battalion deputy chief SSP Krishna Bhakta Bramacharya inaugurated the event by handing over a blood bag to Ghanashyam Rijan, General Secretary of RLDGP.
Singers- Prajapati Parajuli, Purushottam Neupane, Hari Devi Koirala, Keshav Devkota, Ramji Paudel, Nisha Pokhrel, Manju BK performed songs during the event. The program was assisted by Nepal Red Cross Society Kaski and Pokhara Lok Sangeet Samuha.
According to, RLDGP Gandaki Chairman Jeevan Dahal, signers- Sankar Birahi Gurung, Singer Rijal, Surendra Gurung expressed their view during the program. 68 times blood doner Bikram Udas, Lok Dohori Award winner Dahal and sports man Yam Gurung were felicitated during the program.