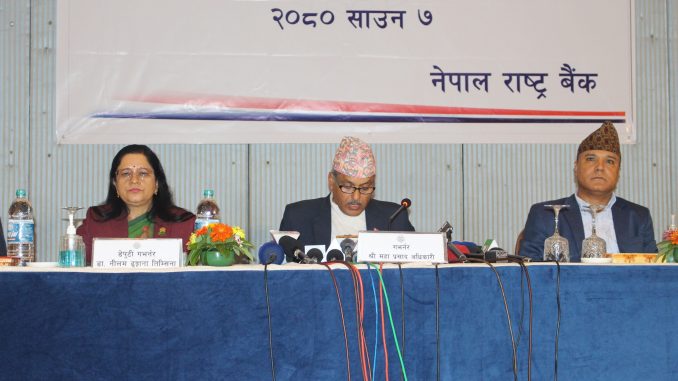 Pokhara—The Nepal Rastra Bank has unveiled the monetary policy for the current fiscal year 2023/024, incorporating some flexible provisions regarding key interest rates. NRB Governor Maha Prasad Adhikari appeared in a press meet following the revelation of monetary policy from the NRB website.
The new policy has decreased the policy rate from 7 percent to 6.5 percent, seeking a significant boost in the economy. But the policy puts the bank rate unchanged at 7.5 percent. Similarly, deposit collection rates have reduced from 5.5 percent to 4.5 percent.
The monetary policy also announced that Nepalese citizen who wants to travel overseas excluding India could withdraw 2500 USD; earlier such an amount was 1500 USD. Likewise, the upper limit of home-loan has been decreased from Rs 15 million to RS 20 million.
The monetary policy left a positive effect on Nepal Stock Exchange (NEPSE) index which touched 2227.16 points increasing by 63.24 (2.92 percent) points today.
Pictures: NRB