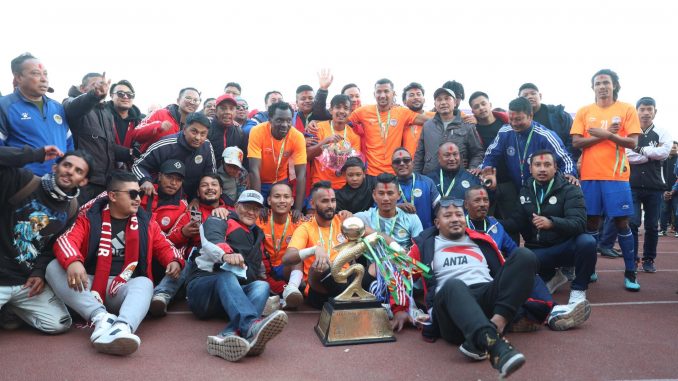 By Rup Narayan Dhakal : Pokhara—Sankata Club Kathmandu lifted the title of the 22nd Aaha Rara Pokhara Gold Cup, beating Bhutanese Youth Sports Club, Minnesota, USA, 3-2 in Pokhara Stadium on Saturday. Champion Sankata bagged Rs 1.2 million prize and Runner up BYSC got Rs 6 lakhs.
Sankata scored two goals before 35 minutes but BYSC made an equalizer before wrapping up the first half. The second half saw no goal and the match advanced to the extra time where Sankata's captain Sunil Bal made decisive goal in 117 minutes to make his team a 2nd time champion of Aaha Rara organized by Sahara Club Pokhara and mainly sponsored by Himshree Foods Pvt. Ltd. Earlier, Suraj Jeu Thakuri and Messouke contributed 1 goal each for winning side while Rene Santillon and Willis Griffith scored one goal each for tourist team.
National Sports Council member secretary Tanka Lal Ghishing, ANFA chairman Pankaj Bikram Nembang including other guests distributed the title and prize money in an ending ceremony. A total of 10 teams took part in the tournament started on the 29th of December. SCP chairman Hariram Gurung thanked all who supported completing the tournament successfully.
Best of the tournament
Best Player: Sunil Bal (Sankata)
Best Scorer: Messouke (Sankata)
Best Goalkeeper: Tikendra Singh Thapa (Sankata)
Best Defender: Hector Orgtega (BYSC)
Best Midfielder: Aayush Ghalan (Sankata)
Best Striker : Stephen Binong (Sankata)
Best coacher: Salyan Khadgi (Sankata)