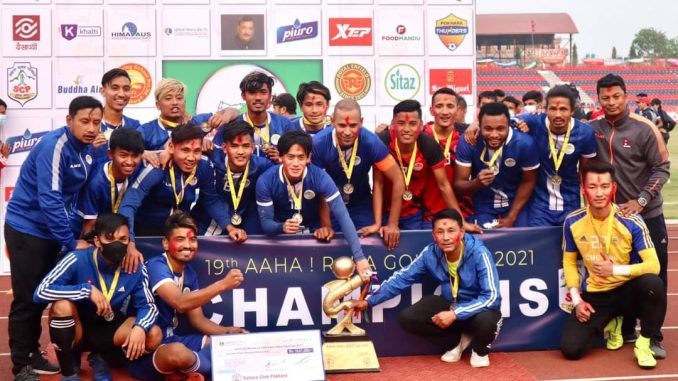 By Rup Narayan Dhakal : Pokhara–Sankata Club lifted the title of 19th Aaha Rara Gold Cup for the first time, thrashing African Roots Association 4-2 in a penalty shootout at Pokhara Stadium on Saturday(African Roots). New champion Sankata received Rs 1001,000 including a trophy. Likewise, the runner-up African team bagged Rs 501,000.
The final battle forced to resort to the penalty shootout as the regular 90 minutes and added 30 minutes remained fail to decide the match. In the penalty shootout, Amit Tamang, Subash Gurung, Niraj Basnet and Ayush Ghalan scored for the winning team but Captain Saroj Dahal's shot was saved by an African goalie and Captain Da Sylvio.
Likewise, for the African team, K Yanic and Rim scored each while Kuete's shot went wide and R Mbakop shot was saved by Nepali goalie Raja Babu Thapa. Earlier both the team scored 1 goal each in regular time. Basscek netted the first goal in the 11th minute for African Roots Association but Sankata leveled the score in the 52nd minute. Here Glory netted the ball for his team. Raja Babu Thapa of Sankata has been awarded best player of the tournament. He received an Aprilla scooter.
Following this winning Sankata Club created history in the tournament. It was the 6th participation of Sankata in the Aaha Rara Cup Tournament. Sankata had defeated APF to enter the final while the African team thrashed Nepal Police Club, which had lifted the title six times. Host Sahara Club Pokhara (SCP) Secretary Ramji Prasad Adhikari informed that a total of eight teams took part in the tournament which was principally sponsored by Himshree Foods Pvt. Ltd.
According to SCP Chairman Keshab Bahadur Thapa, the saving from the tournament will be utilized for Sahara Academy where 24 helpless children from 14 districts have been receiving free football training including health and accommodation services. The academy has been providing such services since 2070 BS in Pokhara Metropolitan City- 17.
Best Goalkeepeer     : Rajababu Thapa (Sankata)
Best Defender           : Niraj Basnet (Sankata)
Best Midfielder        : Rim (African Roots)
Best Striker               : Basscek (African Roots)
Best Coach                : Serge Boris (African Roots)