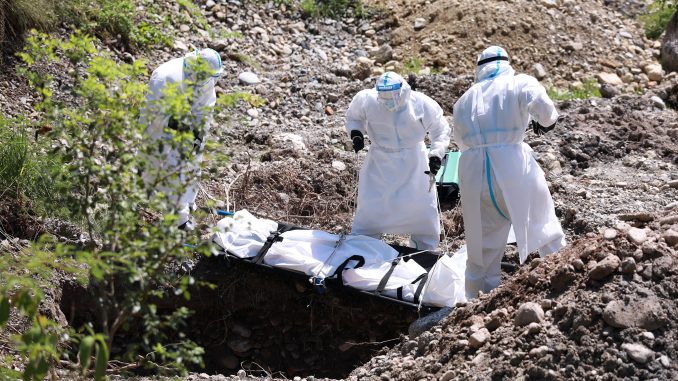 Pokhara—Nepal Army Personnel have buried a dead body of Covid 19 patient at Majhuwa in Pokhara Metropolitan City 32 on Thursday noon. The body was of a woman from Pokhara 11 who succumbed to Covid 19 this morning at around 8 am.

An excavator prepared a ditch to bury her body at Majhuwa and army personnel carried out all the necessary procedures to manage the body. The woman, 32, was from Phoolbari of Pokhara and was getting treatment in ICU of Covid 19 Treatment Center in Pokhara Health Science Foundation, Western Regional Hospital Pokhara.

She is the fifth person who died of Covid 19 at this center. A total of 9 persons lost their lives because of coronavirus in Gandaki province as of Wednesday, informed Dr Arjun Acharya, director of this center. A total of 2005 people have been infected from coronavirus in Gandaki Province and more than 1665 patients have already been discharged.