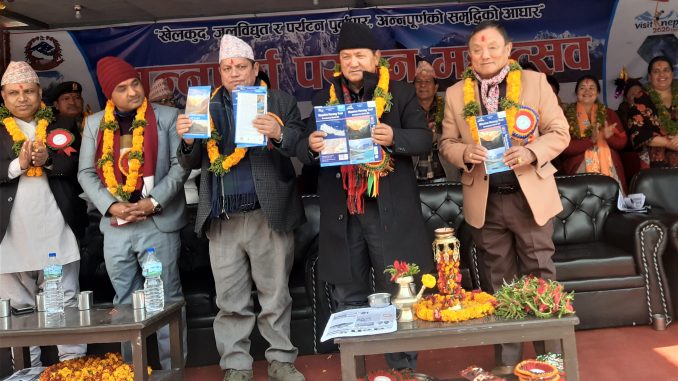 Pokhara—Annapurna Rural Municipality Myagdi has published a brochure to promote the Annapurna North Base Camp. Gandaki Province Chief Minister Prithvi Subba Grung made public the brochure and map of the route during the First Annapurna Tourism Festival, being held at Narchyang of Myagdi. Below is the details of the brochure:
Welcome to Annapurna North Base Camp
Background: There are dozens of trekking routes in world famous Annapurna Region. Annapurna circuit and Annapurna Sanctuary are much popular among those routes but there is also a hidden route in this region. This is a route to the Annapurna North Base Camp (4190m) which is yet to be well-explored despite its brilliant history. On 3 June 1950, French mountaineers Maurice Herzog and his colleague Louis Lachenal reached on the top of Annapurna I, being the first climbers in modern history to climb a peak over 8,000 m. In this connection, Annapurna Rural Municipality (ARM) Myagdi explored this route in 2019 and would like to support local people and entrepreneurs by cashing the historic side of this route. So, Trekking Agencies' Association of Nepal, Annapurna Conservation Area Project (ACAP) and Nepal's tourism ministry have collectively tried to bring this route in limelight.
Accessibility: Trekking in this route begins from Myagdi's Lower Narchyang village that situates some 100 km far from Pokhara and It takes more than 4-hour drive to reach the village. The road goes through Kusma, Maldhunga, Beni and Bhurung Tatopani (hot spring) from Pokhara. Since, the trekking in this route is camping base, respective agency manages necessary stuffs. As trekking starts from Lower Narchyang, it takes more than 2 hours to arrive to Upper Narchyang (Lekgaun), which is the last village in this route. Then, Kalokhola may be a possible night camp. Likewise, Chhotepa is suitable for another camp. There is also an alternative off-road that connects Lower Narchyang with Chhotepa. After Chhotepa, Humkhola, Sandhi Kharka, Bhusket Mela and base camp could be possible camping points. Trekking back to Lowr Narchyang could be faster than to ABC because of downhill walk in that route. Mid-September to Mid-December and March, April and May are best months to trek this area.
Accommodation: There is no lodge and tea house above Upper Narchyang (Lekgaun). ARM, ACAP and private sector are thinking of to develop some tea houses and lodges along the route in near future. Quality tents and sleeping bags are needed to check the chill weather. Natural spring water is available for cooking, washing and drinking purposes. There is also no internet and cellphone signal in the weeklong tough walk. Satellite phone could be used when the time of emergency. Health post is available in Lower Narchyang. Major Attractions: The view of Annapurnas including Annapurna I, Tilicho, Nilgiri and Baraha Shikhar could be witnessed during the trekking. The 360-degree mountain view at base camp leaves hikers speechless. Similarly, Tranquil Narchyang Lake at base camp is a major attraction of this route. The lake goes frozen in night and morning when the temperature comes down during winter season. Hot springs, glaciers, water falls and caves also make this route majestic. Rhododendron flowers also is an added attraction. Suspension bridges, stone steeps and mountain terrain also are the parts of this route. Magar culture at Lower and Upper Narchyang is enjoyable fragment of this route. Wild lives like Himalayan monal, Himalayan thars, Himalayan gorals, musk deer, snow leopards, blue sheep, bears and wild dogs are prime attractions of the route.
Some other tourist destinations in Annapurna Rural Municipality
Ghorepani Poon Hill Trek, Mohore Danda, Khopra, Khayer Lake, Bayali, Dhankharka, Phoolbari, Karbakeli Temple, Rupse water fall, Andha Galchhi, Tadapani to Dhaulagiri Kalibaraha, Dana to Kalibaraha.
To be explored trekking routes
Bhurung Tatopani Bazaar-Bhurung Gaun-Kholakharka-Naulo Ban-Mundra Chadaune Danda-Dhulagiri Kalibaraha-Chimkhola-Galeshwor.
Dana-Nagdhunga-Phagam-Kalo Patal-Bherikharka-Melkharka-Salleni Dhara-Mundra Chadaune Danda-Dhulagiri Kalibaraha-Dhaulagiri Icefall-Lete.
TENTATIVE ITINERARY
Day 01: Drive to Beni then Bhurung Tatopani and Lower Narchyang, Overnight stay at Lower Narchyang (1330m).
Day 02: Trek to Upper Narchyang- Kalokhola. Overnight stay at Khalokhala (2460m).
Day 03: Trek to Chhotepa. Overnight stay at Chhotepa (2484m).
Day 04: Trek to Hum khola. Overnight stay at Hum Khola (2883m).
Day 05: Trek to Sandhikharka. Overnight stay at Sandhikharka (3160m).
Day 06: Trek to Bhusket Mela. Overnight Stay at Bhusket Mela (3551m).
Day 07: Trek to Annapurna North Base Camp. Overnight stay at Base Camp (4190m).
Annapurna Rural Municipality, Myagdi
in association with
Trekking Agencies' Association of Nepal, NTB and ACAP