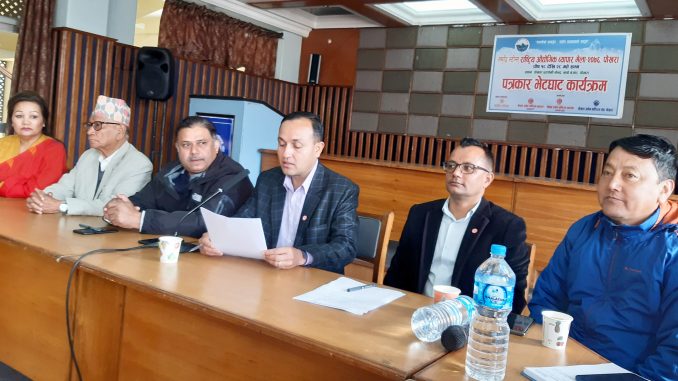 By Rup Narayan Dhakal : Pokhara—Samridhhi Steels National Industrial Trade Fair 2076 is to organize from January 3 to 13 at Nayabazaar in Pokhara, informed Damu Adhikari, Chairman of Pokhara Chamber of Commerce and Industry (PCCI) which is one of the hosts of that fair.
According to chairman Adhikari, Federation of Nepal Chamber of Commerce and Industry (FNCCI) and its Gandaki Province branch also are the organizers of the fair which is promoted by Nepal Tourism Board and Rastriya Banijya Bank. The fair is supported by Pokhara Metropolitan City. At the same time, Samridhhi Steels is the main sponsor of the fair which is co-sponsored by Upkar Brand.
PCCI General Secretary Arjun Pokhrel said that the preparation of the fair is undergoing in full swing and 80 percent of the festival stalls have already been booked. According to him, the stalls contain industrial, agro, handicrafts, IT, education, health and tourism related goods and services. Similarly, business fair, floriculture fair, auto fair, activities of government and non-government organizations, sales of household goods, grocery items, garments and cosmetics goods also are the parts of the fair.
Promotion and marketing of those goods and services are also the objectives of the fair. At the same time, the fair aims the expansion of business potentials and tourism promotion of Gandaki Province. Likewise, duet song competition, Panche baja competition, live concerts of musical bands, solo open dance competition also will be included in the fair. Organizers expect some 0.1 million visitors in the fair.
Similarly, saving of some 30 million rupees has been expected from the fair which is coordinated by FNCCI Festival Committee Chairman Dil Sundar Shrestha. PCCI Senior vice chairman Narayan Koirala thanked all the journalists who participated at the press meet organized to inform about the fair on Wednesday. FNJ Kaski advisor Ramesh Paudel also put his remarks during the press meet.