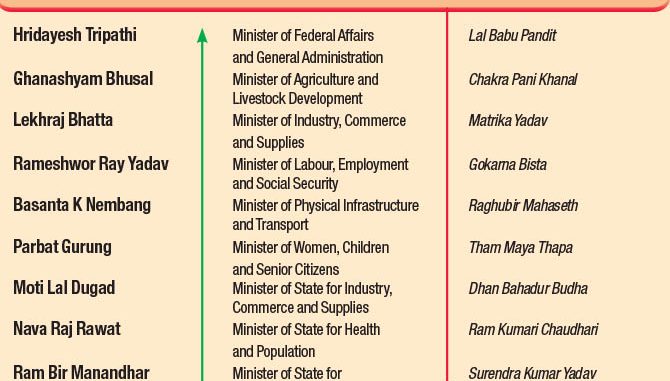 Pokhara—Newly elected ministers of Nepal took the oath of their office and secrecy. They were sworn in by President Bidya Devi Bhandari in a program organized at Shital Niwas this morning. Prime Minister KP Sharma Oli had reshuffled the cabinet last night.
Six ministers took part in the oath taking ceremony while three state ministers were sworn in by PM Oli. Deputy President Nanda Bahadur Pun, PM Oli including other were preset in the oath taking ceremony. Newly elected ministers from Nepal Communist Party (NCP) are Basanta Nembang, Ghanashyam Bhusal, Hridayesh Tripathi, Parbat Gurung, Lekhraj Bhatta and Rameshwor Ray Yadav.
Similarly, Moti Lal Dugad, Navaraj Rawat and Rambir Manandhar have been elected as state minister. PM Oli sacked eight ministers. They are Lal Babu Pandit, Chakra Pani Khanal, Matrika Yadav, Goma Bista, Raghubir Mahaseth, Tham Maya Thapa, Dhan Bahadur Budha, Ram Kumari Chaudhari and Surendra Kumar Yadav.
At the same time health minister Upendra Yadav has been transferred to Law Ministry. Shakti Basnet, Giriraj Mani Pokhrel, Padma Aryal, Istiyak Rai Yadav, Bina Magar and Jagat Bahadur BK are in their post as usual.