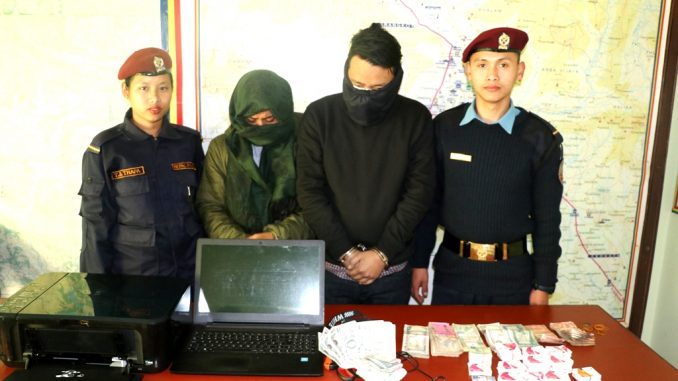 Pokhara—A couple who were arrested for allegedly publishing counterfeit Nepali currency have been marched in District Police Office Kaski this afternoon. Prem Bahadur Tamang, 33, of Hetauda Metropolitan City of Hetauda district and his ally Ms Sarswati Balami, 25, of same area were arrested by a police team of Ward Police Office Bagar led by inspector Deepak Thapa on February 18 at a time when accused were busy in producing fake currency at rented room in Parshyang of Pokhara Metropolitan City- 5.
According to DPO Kaski spokesperson DSP Rabindraman Gurung, police had started the searching of couple following the information of suspicious Rs 1,000 Nepali bank note that couple had paid to a shopkeeper of Gurung grocery shop of Armala in PMC- 16 to buy a Rs 100 Ncell top up. Then they had came back to Pokhara riding a Duke motorbike. According to Police, they couple had received Rs 900 original currency in return.
Police also recovered a Canon printer that the couple used to published fake currency, Lenovo laptop, Oppo mobile, seizure, cutter, paper, Rs 128,430 cash, Indian currency Rs 1,000 and Rs 19,000 faked Nepali currency including some top ups of Namaste and Ncell worth rupees 85,250.
DPO Kaski further made clear that the couple arrived to Pokhara some two month before and resorted in a hotel room of Lakeside, Pokhara. Then they started to live in a room of Parshyang and began to produce fake currency after learning idea from YouTub.
After producing fake currency by scanning a original note they used to buy things including top ups especially from the shops where children and women had handled. They used to paid around 15 of one thousand rupees fake note daily. According to information, the married Tamang and unmarried Balami were in affairs for more than 1.5 years.