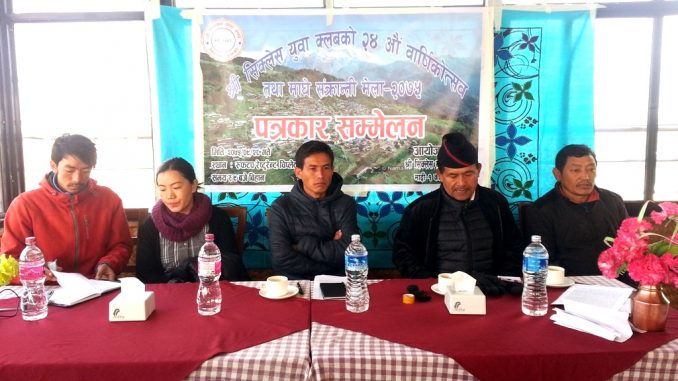 By Rup Narayan Dhakal : Pokhara—Sikles Maghe Mela is to start from January 15 in touristy village Sikles. The festival is going to happen on the occasion of 24th annual general meeting of Sikles Youth Club (SYC) which is a key organizer of the festival that ends on January 18.
SYC organized a press meet in Pokhara to inform about the preparation of the festival that includes open shot put (chhelo), inter-village dances, men's volleyball, women's volleyball, basketball, hit the pot, tug of war, needle and thread game, folk and duet songs, pop songs, cultural programs including competitions.
The festival aims the conservation and development of some holy sites called Mhudukyu and Phaimkyu situated in Sikles villag. Similarly, publicity of traditional chhelo competition, tourism promotion of Sikles, promotion of homestay tourism, distribution of scholarship to students, conservation of culture and traditional attiring as well as Sikles promotion as an tourism destinations are some of the objectives of the festival. SYC vice chairman Padam Bahadur Gurung, social worker and ex-captain Lok Krishna Gurung, journalist Bel Gurung and social worker Dinesh Gurung also expressed their views during the press meet.

Sikles Village
Sikles is situated in the elevation of 2,000 meter from sea level. The village has around 450 houses which are mostly of Gurung. The village is also a gateway to sacred place Doodhpokhari (milky lake), Kori, Kohla Sothar and the Kaphuche Lake which is claimed the lowest (2,450m) glacial lake of the world. Sikles is also one of the important ends of Ghalekharka-Sikles eco trek which is Nepal's first eco -route that elevates up to 2,814 meter of Tara Hilltop.
The route was the beginning of tourism in Sikles but things didn't go as thought that time. Besides agriculture, animal husbandry and foreign employment, Sikles people are luring in tourism business in recent years. There are some 21 homestays and 13 lodges now in the village. Traditional houses, rustic stone steps, pleasant weather, green hills, herds of sheep and their sheds, beautiful views of Mt Annapurna and happening of avalanches there, Edi fall, honeybee hives, Madi River, number of shrines, peace pillar, museum, organic food and vegetables and the view of Tangting village are some of the major attractions of Sikles and surroundings.
Politically, Sikles is a part of Madi Rural Municipality- 1. The village has six different settlements called- Dhaprangthar, Lamathar, Harputhar, Sabhathar, Kointhar and Gairithar. A 40-km long off road connects Pokhara and Sikles that has been enjoying electricity, internet and telecommunication facilities for few years.