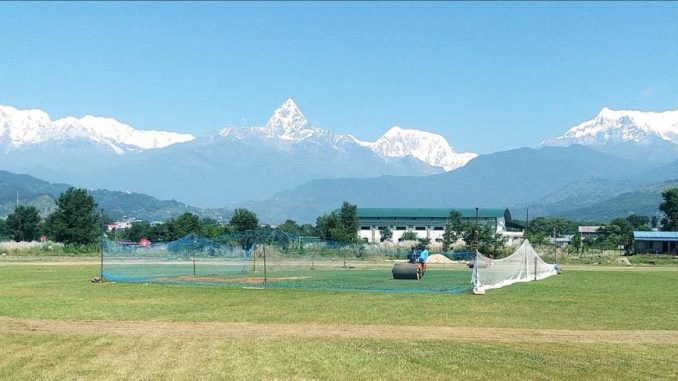 By Rup Narayan Dhakal : Pokhara—The lake city is all set to begin the Pokhara Premier League 2018 for the first time. A total of six franchise teams are to take part in the tournament that would be played in the pitch of Pokhara Stadium from October 26.
Kathmandu Royals, Pokhara Paltan, Butwal Blasters, Dhangadi Blues, Chitwan Rhinos and Biratnagar Titans are going to take part in the Twenty20 cricket of PPL organized by the Queens Event Management Pvt Ltd. The home team Pokhara Paltan is busy in practice in close camp at Pokhara Stadium.
The fixture of PPL also has already been made public. As per the schedule, Pokhara Paltan will take on Biratnagar Titans in the opening match. Four pitches and a makeshift parapet with a capacity of 4,500 audiences have also been prepared.
Similarly, the governing body of Cricket, International Cricket Council (ICC) has officially sanctioned the PPL 2018. Mr. Umesh Patwal who is the former batting consultant of Nepal and Afghanistan has been nominated as a tournament director of PPL that ends on November 6.
After Everest Premier League and Dhangadi Premier League, PPL is going to be held in a naturally rich tourist city Pokhara which situates in the lap of magnificent Annapurna Range. Photo journalist Sudarshan Ranjit who took a cricket playing picture with Mt Fishtail on the backdrop had been selected as a best photo of the year 2007 by ACC gave Pokhara an international recognition in the context of cricket.
Marquee players and other players were selected from the auction for PPL. According to QEM Managing Director Chhumbi Lama, the league aims to promote the tourism of Pokhara which is aimed as an International neutral venue of cricket.