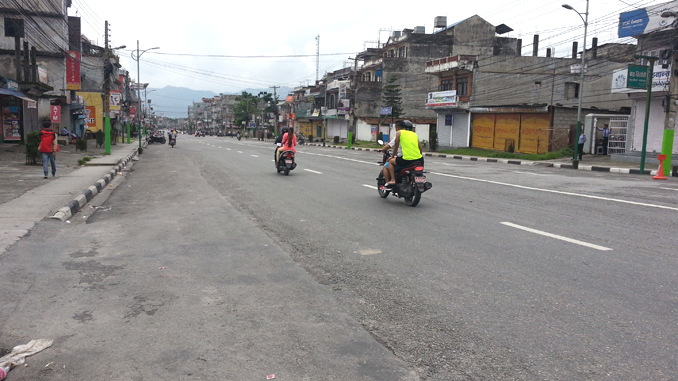 Pokhara—Normal life has been crippled due to the Nepal bandh organized by Netra Bikram Chand led Nepal Communist Party across the nation. There could be seen very few number of public and private vehicle in the road of Pokhara.
Media, hospital, red cross, drinking water and milk vehicles are plying in their regular way but other vehicles are not seen in large number as before. There is no report of bombing, attacking and arresting in Pokhara so far. Biplav's cadres attacked a bus with acid in a plying bus in Tilottama Municipality of Rupandehi this moring. The bus was heading for Bhairahawa from Kaski and one person injured during the attack.
During the bandh, a bus was torched at Tistung of Makawanpur. The bus was for school purpose and was taken their after customs clearance. Similarly, a truck was torched at Gaindakot in Nawalparasi and it was carrying a straw. Likewise, a bomb went off in Indian Pension Camp at Fulbari of Butwal on last night. Same kind of explosion also happened in Gauradaha of Jahapa. Similarly, a parked jeep was vandalized in Kalikot district. The jeep was on its way due to the landslide there.
Meanwhile, Nepal Army have disposed a bomb planted near a school at Chandranigahapur of Rautahat. The IED was in tiffin box was placed near Moonlight Academy. Nepal Army also defused two bombs planted inSurya Binayek and Lokanthali. The pressure cooker bombs were placed nearby roads. Likewise, NA also defused a bomb placed along the East West Highway at Ratopul in Mahotari.
According to Nepal Police, a dozen of persons have been arrested from Kathmandu, Lalitpur and Jhapa for allegedly planting bombs and mock bombs. The bandh was organized to protest the nabbing of Khadga Bahadur BK aka Prakandha who is the spokesperson of Nepal Communist Party.