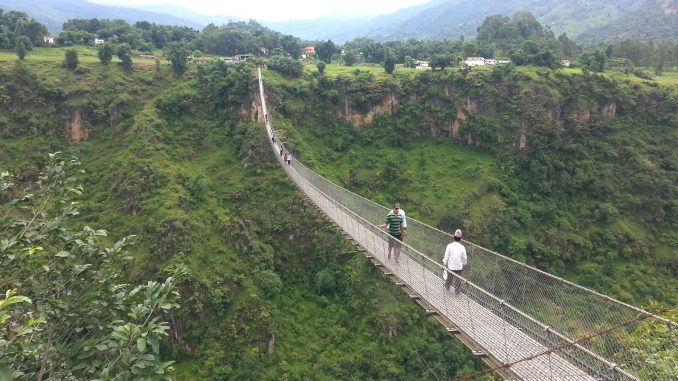 By Rup Narayan Dhakal : Kushma—Nepal's Parbat district is famous for dozens of suspension bridges. District headquarter Kushma bazaar is more popular on this part because of the some noted higher and longer suspension bridges. So, in recent years, the bazaar is turning into a destination of some amazing bridges which are being the tourism product for this district. So, the district is promoting and selling the bridge-tourism in recent years.
Kushma is very rich in natural beauty like rivers, green hills and beautiful landscape but the man-made bridges have added the extra beauty in the city. So, we could say Kushma a city of the bridges. There are three major high and long suspension bridges which connect dozens of villages to the district headquarter. Kushma-Gyandi Bridge, Kushma-Kaiya (Baglung) Bridge and Kushma-Mudikuwa Bridge are very famous among the visitors.
The settlements Kushma, Gyandi, Phalebas of Parbat and Balewa of Baglung seem in a same level as like a valley when we watch them from far but they have been divided into parts by Kali Gandaki River and Modi Khola River. In this context, the bridges have been like lifeline for village people who used to walk hours to visit their district headquarter for various reasons.
The access to those bridges also is not as hard as the Kushma Bazaar is situated along the Bhupi Sherchan (Pokhara-Baglung) Highway and visitor could reach there easily. There is also road access to one end of each bridge. Besides those three bridges, there is also another system which is called Kushma-Balewa Yantrik Bridge i.e. a kind of cable car system. Likewise, some of the bridges are also under construction near the headquarter.
Kushma-Gyandi Bridge
Established : 2067 BS
Length : 344m
Height : 135m
Above : Modi Khola

——————————————————–
Kushma-Kaiya Bridge
Established: 2070 BS
Length : 347m
Height : 156m
Above : Kali Gandaki River
——————————————————–
Kushma-Mudikuwa
Established : 2073
Length : 359m
Height : 155.70m
Above : Modi Khola

——————————————————–
Kushma-Balewa Yantrik Bridge
Established : 2069 BS
Length : 560m
Height : 294m
Above : Kali Gandaki
Kushma-Adhikari Phant
Length : 359
Above : Modi Khola
Kushma-Nepane Bungee Bridge
Established : 2075BS
Length : 525m
Height : 228m
Above : Kali Gandaki
—————————————————————–