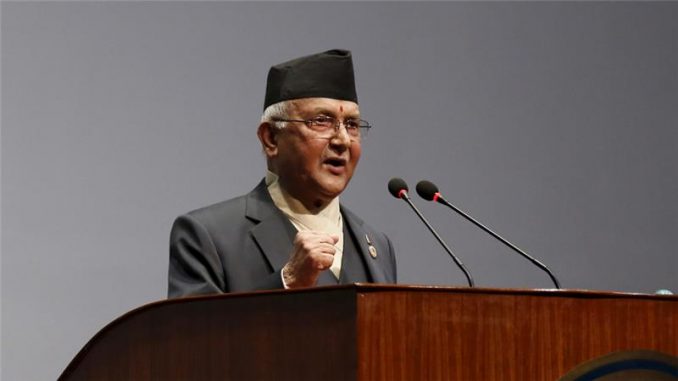 Pokhara—Prime Minister KP Sharma Oli said that Nepal has entered new era and the development works should also be carried out with new style. Addressing a Gandaki Province Assembly meeting today in Pokhara, PM Oli stressed on the need of new way of working style for the overall development of the province.
Oli also retreated that the government is committed for the development of waterways between India and Nepal. Similarly PM Oli said that the railways from Indian and China to Nepal as well as from east to west are also the priorities of the government. PM Oli also praised the fame of the Gandaki Province as the name of the province was picked basing on the Saptagandaki River. He also claimed that the Gandaki Province could be rich even if the province exports the water to China through to be build railways.
He further said that the Gandaki Province has very good potential of tourism. Likewise, the government is thinking of developing a film shooting place in this province. He also claimed that the Tuin would be come to end following the development of suspension bridges and cable cars in respective places.
PM Oli also visited the Pokhara Regional International Airport construction site at Chhinedanda today. He also took part the Pokhara University meeting as a Chancellor.