Pokhara— Trekking Agencies Association of Nepal (TAAN) Western Regional Association Pokhara in association with Nepal Mountaineering Association (NMA) Annapurna Chapter marked the 68th Annapurna Summit Day at Lwang of Machhapuchhre Rural Municipality- 8, Kaski in Province 4 of Nepal.
The program was supported by Annapurna Conservation Area Project and promoted by Nepal Tourism Board. Tourism entrepreneurs from Pokhara, tourism officials, media persons and local people took part in the program that was inaugurated by Nepal Tourism Board former member and recently formed tourism think tank's member Basudev Tripathi. A day earlier on Saturday a tree plantation program was also organized nearby Lwang village.
Annapurna Day falls on June 3 and has been marking for few years remembering french nationals Maurice Herzog and Louis Lachenal who had scaled Mt. Annapurna I (8091m) on that day in 1950. Annapurna was first scaled in the history of mountaineering above 8,000 meter. The world's tallest peak Mt. Everest was scaled three year after of Annapurna's scaling, on 1953.
According to TAAN WRA Pokhara Chairman Deepak Raj Adhikari, his organization has being promoting trekking tourism and homestay tourism in various regions and villages for years. He further informed that the Lwang village is famous for homestay tourism and is one of the points to Mardi Himal trekking route.
NMA Annapurna Chapter president Krishna Kafle, TAAN WRA Pokhara former chairman Basanta Dawadi, Machhapuchhre Rural Municipality-8 ward chairman Krishna Dawadi and TAAN WRA Pokhara secretary Sushil Raj Poudel also put their views in the program jointly coordinated by Shyam Krishna Thapa and Hira Bahadur KC. The formal program was hosted by TAAN WRA Pokhara secretary Sushil Raj Poudel and senior trekking guide Sheshkanta Sharma.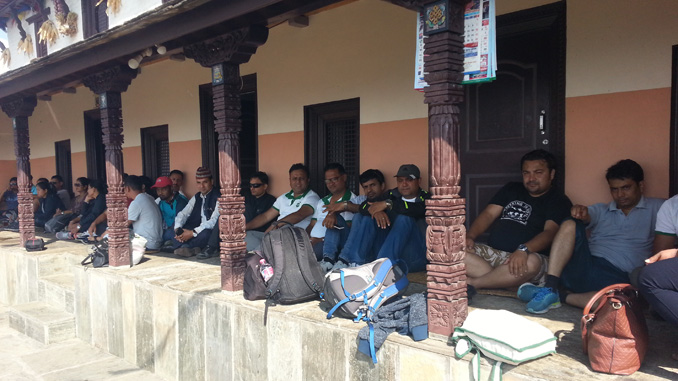 Pictures: Rup Narayan Dhakal